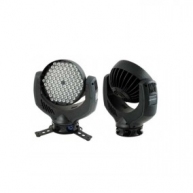 Since its introduction, the impression has taken the world by storm and set a standard for LED wash lighting. Innovation rules in this fixture:

Smaller - with no base unit and able to be placed anywhere without being obtrusive and allowing more lights to be packed into smaller truck spaces.

Lighter - with a weight of just 7.5 kg / 16 lbs. allows the impression to be mounted in many more places without having to sacrifice for a lower output fixture.

Faster - solid state LED's give instant lighting changes to match with video and it's compact size and weight, the impression can move at incredible speeds too 660 degrees of pan in just 2 seconds.

Brighter - 90 powerful K2 LED's ensure pure bright light in every version RGB or white with output levels exceeding that of 575W discharge fixtures. And that's not all; the impression produces beautiful smooth even fields of color when mixing through all color shades in the RGB version, or from one color temperature to another in the white versions.
All units come as standard with 10 degree fixed beam optics, but both 25 degree and 40 degree lenses area available, along with other accessories such as honeycombs and protection domes for outdoor use.
All versions are available with motorized pan and tilt or as static units if they just need to be locked off into position, or operated manually. There is even a recessed version of the impression available for mounting into applications where suspended ceilings or raised floors are used.
All impression fixtures are available to purchase in a flight case direct from the factory. Small and compact, these cases provide ultimate protection for the impression and contain storage space for clamps, lenses, Cables and other accessories.
GLP
GLP Light Products GmbH was founded in 1994 by Udo Kuenzler. Since then GLP has become the established brand name of high-quality and innovative lights for the professional lighting market. GLP is today one of the leading manufacturers of high-class lighting technology with a focus on quality and affordability. Our technology is driven by a constant dialogue with our customers to ensure a level of product innovation that exceeds expectations. GLP Products are used in many different applications within the entertainment and architectural market segments. Television, touring, exhibitions, night clubs and commercial shops are just some of the areas of application where our products shine. Our lights are renowned for their quality, reliability and design - as are our range of lighting controllers. All GLP products are developed through the passion and customer focus of our engineering development team based at the headquarters in southern Germany. We manufacture our lights and controllers at several production sites in and outside the EU. The manufacturing sites go through arduous testing periods before they are ramped up for production, and an intensive quality control by German engineers is carried out at every site to ensure the highest level of quality and reliability. GLP - German Light Products GmbH Im Stöckmädle 13 76307 Karlsbad Germany
Used Moving Lights
Moving lights, or intelligent lighting as they are sometimes called, are basically a type of stage lighting that is able to move due to its integrated mechanical elements, which go beyond the moving parts that are found in more traditional, non-moving lighting. Automated lighting such as moving lights is highly valued by stage lighting technicians as through them, it is possible to create highly complex special effects that simply cannot be made using standard, non-moveable lights. It should be noted however, that when it comes to intelligent lighting, the real intelligence lies with the programmer of the show, rather than the lighting equipment or any operator. Moving head lights, also called moving head luminaires, are highly versatile lighting instruments capable of performing multiple lighting functions at once. They have largely superseded the use of multiple non-moving lights to create special effects, which required many lights and a large amount of skill on behalf of the operators. Moving lights are hooked up to a lighting control console and send data to it in one of three ways â?? through an Ethernet control (a relatively new technology), analogue control (now almost obsolete), or DMX, (which is now the industry standard). So long as they have been properly programmed, the optics of wiggly lights can be altered in many ways, allowing for the â??personalityâ? of the lights to be adapted almost instantaneously, depending on the requirements of the operator. Typically, moving lights will be pre-programmed before a production and controlled using simple commands, although some more experience operators may prefer to control them â??liveâ?, if they have the experience to do so.