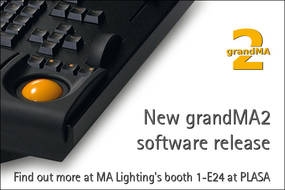 MA Lighting Releases grandMA2 Software Update
June 14th, 2011


MA Lighting has released version 2 software for its grandMA2 console line. The new software release will be presented at PLASA 2010 at booth E24 in Earls Court One.

With many eyes upon the grandMA2, MA is proud to present its latest software release, 2.0. This software update implements an array of new features such as layout pool and layout view, MAtricks, auto create, NDP integration, advanced tracking sheet options, fast call, dynamic channel faders and much more.

The release is available for downloaded here:
http://www.malighting.com/support.html

MA products are very powerful when used stand-alone and have set benchmarks in their fields, but with a full grandMA system it is possible to handle the most complex and demanding set-ups. To give you an Impression of what is going on behind the scenes on a project like the gigantic Opening Ceremony for the World Expo 2010 in Shanghai, we have published another case study. A free copy will be available at MA Lightings booth.