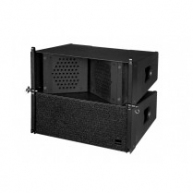 The Galeo Line Array System is suitable for a wide range of sound applications for which a fast set-up, high sound quality, long throw and predictable directivity are crucial. The application of the patented AMR (Air Mass Reflection) principle and the optimised placement of the drivers provide an exceptionally homogenous and precise horizontal coverage. The Galeo is particularly suitable for high-end permanent installations.
The 80 version of the Galeo was developed for narrower audience areas and longer throw. The Galeo's AMR horns in the 80 and the
120 version are interchangeable.
The file Galeo Systems.efo is available to download for use with the simulation software Ease Focus (ex Version 1.4), to model your Galeo system.
SEEBURG acoustic line
Our development team is constantly working on technical improvements and new ideas, working to meet the developing demands of our Market. The cycle begins with an idea and progresses through fundamental research to prototype development and extensive practical tests. Set us a challenge!
Used Line Array Speakers
Find used line array speakers and line array elements from such popular brands as L-Acoustics, d&b audiotechnik, Meyer Sound and Nexo. All used line array speakers are warrantied and in most cases inspected by factory certified technicians. Solaris sells and buys secondhand and used line arrays for large concerts, tours, stadiums and auditoriums. Call us if you don't find it and we will find it for you.