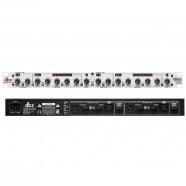 Most compressor/gates provide less than musical compression, coupled with gating that swallows transients??or closes early, cutting off decay and reverb tails. The superb engineering in the 166XL ensures that both its compression and gating provide versatility and excellent sonic performance in situations where other compressor/gates typically produce undesirable processing artifacts.

When using the 166XL's Attack and Release controls, artists and engineers will find that the center settings deliver Classic dbx compression, while the full control range produces voicings that extend from slow ??leveling to aggressive ??peak limiting.The 166XL's advanced gate circuitry uses a completely new, program-dependent timing algorithm to produce ultra-smooth release characteristics??even with complex signals, such as voice or reverb decays. dbx engineers went on to take advantage of the wide dynamic range and high precision of the dbx V1 VCA to design in an extra-wide threshold range and ensure top gating performance for each application.

Separate precision LED displays for gain reduction, compression threshold and gate threshold allow quick, accurate setup, while the 166XL's intuitive operation lets users easily smooth uneven levels, add sustain to guitars, squash drums or tighten up mixes. In Stereo couple mode, the Channel 1 controls become Master controls, and Channel 2 follows precisely to ensure a rock solid stereo image??even with high amounts of compression, through True RMS Power Summing?. Professionals and newcomers alike will find that the 166XL sets up rapidly and musically the first time it is used, especially with the Auto attack and release function. Advanced applications are now easy, with the 166XL's full sidechain functionality, and the ability to use either hard knee or OverEasy compression algorithms. Add to this already impressive list of features the venerable PeakStop? limiter, and you've got a Strong finisher, every time.

The dbx 166XL processor is the result of an intensive engineering and product development effort aimed at taking advantage of the latest and best advances in manufacturing technology to deliver true dbx Audio Performance and reliability to our customers at the lowest possible cost. The 166XL puts a completely new level of compressor/gate performance within everyone's reach.
dbx Professional
dbx Professional dbx Professional Products began in the studio environment developing noise reduction and dynamics products, and it is still in our blood. Since those beginnings we have continued to strive after audio perfection. The 160SL, 786, and Quantum II are some of the results of this pursuit. From the DriveRack series and the IEM In-Ear-Monitor Processor to our host of classic dbx analog Compressors and EQs and top-of-line Blue Series products, dbx no-compromise products are on the rosters of national touring acts night after night. From restaurants and shopping malls to nightclubs and theaters, professionals rely on dbx Professional Products to deliver unparalleled performance. Our DriveRack and ZonePRO products are designed for these applications; built to satisfy the most demanding environments.
Used Compressors and Limiters
Audio compressors and limiters are a kind of specialist hardware used to either amplify the volume of quiet sounds or reduce the volume of loud sounds, by simply compressing the '??dynamic range'?Ě of an audio signal. Audio compression is commonly used during live concerts, broadcasts and studio recording. Audio compressors and limiters, sometimes called a dynamic compressor, can manipulate the volume of sound by alternating the rate of compression through two basic functions '?? attack and release controls, which are also able to smooth the final effect of the audio output. There are many different kinds of compressors and limiters available, including very basic models with just a few simple knobs for attacking and releasing, and more advanced models which provide greater versatility when it comes to attenuating audio signals. Audio technicians place an extremely high value on compressors and limiters. An audio limiter is essential for managing the level of audio signals during recording sessions. If the volume produced by a piano for example, is not managed, the recording equipment could easily be overloaded when the pianist plays louder, impacting on the quality of the final recording. Similarly, when the pianist plays at a lower volume, audio compressors and limiters are needed to boost the volume level so that the signal remains consistent throughout. In addition to managing signal levels, compressors and limiters can also be used to create special effects and add an extra dimension to recordings. Audio limiters are able to compress dynamic range audio signals into a much narrower range, hence why they are sometimes called a dynamic compressor. The results of such audio compression include attaining a higher source signal from low volume sound, smooth and consistent tones, an increase in some musical instruments sustain and the ability to enhance the '??punch'?Ě of certain instruments, such as guitars, bass and drums.