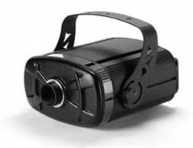 This truly amazing projector provides large scale rippling light effects previously unavailable to lighting designers. The device utilizes a 200 watt Enhanced Metal Arc source, whose short arc allows for an output of 5K lumens, with a 7000 hour lamp life. The color temperature is similar to a Xenon source at 6000K.

The effect itself is created by rotating two "X" size glass gobos off center of the optical path. This results in a projection that does not appear to have a visible direction or pattern. The color slot will accept dichroic color filters.

Rosco's X-Effects Projector has undergone an engineering overhaul to drastically increase its durability and lifespan in 24/7 operating environments such as theme parks, architectural installations and museums. Addressing both moving parts and optical components, our engineers have re-tooled guides, idlers, drive assemblies, motors and even tweaked the lamp and Power Supply of the previous X-Effects. The result is the X24 X-Effects.

Lens trains are available in 19, 30, 50 and 70-degree configurations. Due to the efficiency of the lamp and the design of the optics, all lenses have crisp edges, even for long throws of 100 feet or more.

The X24 X-Effects Projector is available in two configurations. For theatrical entertainment lighting, specify the model with DMX on board. Using five DMX channels, the unit has full control of each effect gobo, lamp strike and light output. The DMX-controlled douser, also initiated through your lighting control board, directs not only the light output but blackouts and fades as well.

For such permanent installations as retail or museum display, or where DMX is not required, the analog X24 X-Effects Projector is a good choice. It includes onboard potentiometers to control the speed and direction of both gobos.

Please note that the X24 parts are NOT interchangeable with the previous generations of X-Effects. Part numbers for the complete projector and common replacement parts are listed below. While it is recommended that any effects glass from previous X-Effects units be replaced with X24 effects glass, those older glass wheels can be used with some success. Irregular motion may occasionally be detected with older effects glass disks.
Rosco Laboratories
Rosco Laboratories, Inc. Equipment, software and products for theatre, film, television and architectural environments
Used Video Projectors
Video projectors such as a digital video projector or an LCD projector are an alternative to regular video screens in that they project images directly onto a screen, rather than projecting the video from behind as a television or monitor does. Video projectors use a lens system and project an extremely bright beam of light onto a screen. Modern video projectors such as a 3 chip DLP projector have are extremely intricate and able to correct inconsistencies in the image such as blurriness and curvature. Video projectors are commonly used in concerts and theatres, and they have many other applications in educational and business settings. They can also be used as part of a home theater system. There are a vast range of different video projectors available. The old CRT projectors are surprisingly still quite widely used, as they are able to project a very large image size, although the bulkiness of the cabinet is not so popular. For professional use in theatres and concerts, the DLP projector is one of the preferred models. DLP video projectors use 1, 2 or 3 Digital Micromirror Devices, called DMDs, which are essentially microfabricated light valves. The 1 chip DLP projector and the 2 chip DLP projector have been known to experience a problem however '?? viewers can sometimes perceive a '??rainbow'?Ě on the projection screen, and so the 3 chip DLP projector is more popular, as this is able to display each primary color in a simultaneous fashion, so the problem doesn'??t occur. The LCD flat panel model is perhaps one of the most popular video projectors for home and business use, as it is both affordable and simple to use. Other video projectors include the LCoS projector, LED projectors, Laser Diode projectors and hybrid LED/Laser Diode projectors.