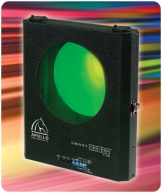 Smart Color Scrollers are made from durable lightweight aluminum construction that provides application flexibility. They offer large apertures to ensure maximum beam angles and light output. Precision motor bearings allow for whisper quiet operation. Other standard features include state-of-the-art digital circuitry with rotary DMX addressing, an automatic scrolling mode to continuously scroll or frame-by-frame step through each color at various speeds without the need for a lighting console, and remote fan control.

Each Smart Color scroller comes with pre-installed Apollo Gel Shield to extend gel string life, a standard mounting plate of your choice and a safety Cable. The gel string of your choice is also pre-loaded for additional convenience.

Apollo Design
As Apollo has grown, so has the product offering. In addition to the best custom and standard gobos, Apollo now proudly offers Smart Color� scrollers, Smart Move® rotators, ComSpec Color Mixers, Apollo Gel, pattern holders, donuts, gel tubes and much more! Although the evolving physical form of Apollo has undergone great changes, the ideals that are responsible for our success will never change. Apollo's focus and high standards for excellence in service and quality will always distance us from the competition.
Used Moving Light Parts
Intelligent lighting has become one of the most important parts of stage lighting since the 1980s. Its versatility in terms of lighting moods and effects has proven to be very useful in theatre, concert venues and nightclubs. The entire lighting system is made up of carefully selected parts that function mainly to make a light source function in many ways. Some parts of the intelligent lighting system are actually internal optical devices. The color wheel has a number of interchangeable color filters to achieve moving as well as colored lighting. A gobo wheel (aptly named because it is used as a â??go betweenâ?ť) is used to change the shape of emitted light. It is actually a physical template that is strategically positioned inside or in front of a lighting source. The arc lamp which produces light by an electric arc is the lighting source for most intelligent lights. The types of arc lamps available vary based on the gas contained in the bulb and by the type of electrode used. To produce a dimming effect or other effects, a variety of mechanical methods are used. Light is controlled before it is beamed out of the front lens by using servo motors or stepper motors which are attached to mechanical and optical internal devices. Some of the parts in stage lighting are just conventional fixtures with accessories that are simply designed to change lighting output. Examples of these accessories are holders, scrollers or rotators. Gel, the transparent thin polycarbonate or polyester sheets for coloring or correcting a beam of light, is placed in gel holders.