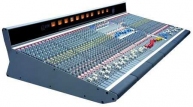 21 buss live sound console
This mixer looks, feels and performs like a true workhorse. Like its siblings in the GL range, we built GL4000 to be equally at home in the front-of-house position or in monitor land. We also packed in a really serious set of live Recording tools (someone always wants a tape of the show don't they?)

Although we've certainly been generous with the feature set, we were determined to make GL4000 really simple to use, so anyone with reasonable mixing skills should be able to use one to run a world-class show with a bit of practice. Our efforts have been rewarded by the sight of so many GL4000s succeeding in high-profile roles where you'd normally expect to find something costing 10 times more
Allen and Heath
We've built a lot of mixers in the last 35 years or so (over 160,000 at the last count) and we still get a huge buzz out of doing it well. It's an unbeatable feeling to know that at any time of day or night, right across the globe, there is an Allen & Heath mixer out there working hard, sounding great and making life a little easier for the guy at the controls.
Used Analog Mixing Consoles
GL4000 48 Inputs - Has 48 channels with an external 3U rack power unit.
GL4000 - 48ch Analogue Mixing Console
GL4000 - Console+Dynamics & Effects Package
GL4000 - 32 Channel
GL4000 - 40 Channel Version
GL4000 - Mint Condition - Church Install
GL4000 - Allen & Heath GL4000 w/Roadcase and Dog house
GL4000 - Corporate used GL4000 with flight case in good condition.
GL4000 - 48ch w/road case, meter bridge, and 2xPSU
GL4000 - From Church Install - From 2002
GL4000 - Mainly Corporate Use
GL4000 - Used on various rentals. Used on various rentals.