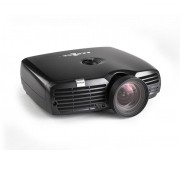 Thanks to their unmatched image quality, performance and reliability, the versatile F22 projectors are perfect for 24/7 operation in a wide variety of applications, from flight simulators to dark rides in theme parks. Featuring up to 3,300 ANSI lumens, the F22's brightness matches virtually any application. And thanks to its various optional configurations, it can be set to display any desired brightness. Moreover, Philip's VIDI technology enables digital control and lamp output management. Each F22 projector is meticulously calibrated during manufacturing and its unique optical design ensures perfect on-site calibration. With RealColor, you can easily match any number of projectors, and ensure they project the same primary colors and grey scales with a color accuracy down to 0.002. Thanks to its integrated Pixelworks dnx (Digital Natural Expression) engine, the F22 provides 10-bit video processing, with an integral scaler and deinterlacer to perfectly decode, and display video.

Wide choice in resolutions, aspect ratios and lenses

The F22 series covers various resolutions to perfectly meet your specific need. And the same is true for aspect ratios: 16:10 for new computer style displays, 4:3 for domes and curved displays, or 16:9 for video displays. You can also choose from three lenses with high-quality low dispersion glass: a standard zoom lens, a flexible 1:1 wide-angle lens, and an ultra-wide-angle with optical pincushion/barrel adjustement, designed for rear-projection and specialist setups.

Reliable and high-quality DLP images

Geared with single-chip DLP technology, the F22 generates stable, high-contrast images with saturated colors. Thanks to Texas Instruments BrilliantColor technology, color performance and picture quality are greatly improved. Featuring six-color processing, BrilliantColor provides a wide color gamut, boosts secondary colors and delivers reliable and precise colors. The F22 offers full 10-bit per color signal processing and resolution on all digital and analog inputs, and displays smoothly rendered transitions and gradients. Unlike traditional 8-bit displays, where the image often is graded, the F22 diplays an accurate image.

Simple install and servicing

The lightweight and compact F22 can be installed in motion simulators without extra mounting hardware. And as there's no need to unmount the projector, lamp replacements for the F22 are really easy. You can simply take off the front panel of the projector so that mechanical and optical settings are left untouched. Thanks to the built-in real time clock and timer, the F22 can be set to perform a specific task - such as automatically starting and switching off, switching between various sources at set intervals. Up to 10 different programmes can be stored individually.

Fully networkable and customizable to match your needs

Fully networkable, most projector settings and features can be set via the built-in web page, thus allowing for remote asset management. The F22 comes with a full fleet of options such as different color wheels to perfectly match your projection needs.
Barco
Barco, a global technology company, designs and develops visualization solutions for a variety of selected professional markets: medical imaging, media & entertainment, infrastructure & utilities, traffic & transportation, defense & security, education & training and corporate AV. In these markets Barco offers user-friendly imaging products that optimize productivity and business efficiency. Its innovative hard- and software solutions integrate all aspects of the imaging chain, from image acquisition and processing to image display and management. Barco has its own facilities for Sales & Marketing, Customer Support, R&D and Manufacturing in Europe, America and Asia-Pacific. The company (NYSE, Euronext Brussels: BAR) is active in more than 90 countries and employs 3,500 staff worldwide. In 2008 Barco posted sales of 742 million euro.
Used Video Projectors
Video projectors such as a digital video projector or an LCD projector are an alternative to regular video screens in that they project images directly onto a screen, rather than projecting the video from behind as a television or monitor does. Video projectors use a lens system and project an extremely bright beam of light onto a screen. Modern video projectors such as a 3 chip DLP projector have are extremely intricate and able to correct inconsistencies in the image such as blurriness and curvature. Video projectors are commonly used in concerts and theatres, and they have many other applications in educational and business settings. They can also be used as part of a home theater system. There are a vast range of different video projectors available. The old CRT projectors are surprisingly still quite widely used, as they are able to project a very large image size, although the bulkiness of the cabinet is not so popular. For professional use in theatres and concerts, the DLP projector is one of the preferred models. DLP video projectors use 1, 2 or 3 Digital Micromirror Devices, called DMDs, which are essentially microfabricated light valves. The 1 chip DLP projector and the 2 chip DLP projector have been known to experience a problem however '?? viewers can sometimes perceive a '??rainbow'?Ě on the projection screen, and so the 3 chip DLP projector is more popular, as this is able to display each primary color in a simultaneous fashion, so the problem doesn'??t occur. The LCD flat panel model is perhaps one of the most popular video projectors for home and business use, as it is both affordable and simple to use. Other video projectors include the LCoS projector, LED projectors, Laser Diode projectors and hybrid LED/Laser Diode projectors.