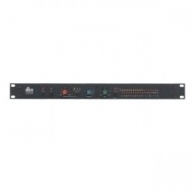 Since its introduction in the mid 1970's, the dbx 160 series has been the world's most popular line of audio compressors. After the Classic 160 (which is still used daily in many world class studios), came the 165, the 160X and the 160XT. The 160X/XT were the models that truly became the industry standard. Solid construction, fool proof operation, great sound, at-a-glance metering and a bulletproof output stage all contributed to its popularity with musicians, Recording studios, consultants and installers, and broadcast media production people alike.

The dbx 160A is a legendary dbx 160 family of compressor/limiters. The same Classic sound, easy set-up and no compromise metering is now married to an improved signal path and stronger chassis design. The result is industry standard compressor/limiter which is digital-ready and road tough.

Featuring switch-selectable OverEasy and Hard Knee compression curves along with extremely wide-ranging threshold, ratio and output controls, the dbx 160A is up to any task. True RMS level detection provides the most natural-sounding dynamics processing available, from subtle compression to "brick wall" peak limiting. Choose low ratios and OverEasy compression to transparently smooth out fluctuating vocal and instrumental levels. Or use the 160A's Hard Knee compression and high ratios (up to and beyond :1 and over 60dB gain reduction) for bombproof protection against overload distortion in digital Recording, P.A. systems and broadcast signals. The 160A is fully compatible with +4/-10dB and balanced/ unbalanced systems, and its electronically balanced output stage is an outstanding line driver for long Cable runs (an output transformer is optional). The 19-segment, switchable input/ output LED metering can be easily calibrated to any operating level. 12-segment gain reduction LEDs provide precise analysis at a glance.

The dbx 160A's unique "INFINITY +" inverse-compression mode actually decreases the audio output level below unity gain when the input exceeds threshold, a real lifesaver for correcting overbearing vocal choruses and controlling runaway house mix levels. A detector input can be used with an equalizer for de-essing sibilant vocals and selectively smoothing out boomy notes on acoustic guitar and bass. And two 160As can be stereo-coupled to process an entire mix or instruments mic'd in stereo, without shifting the left/right image. Its musical sound, easy operation and unequaled versatility made the original dbx 160 a world standard. The 160A follows that tradition, while meeting the challenges of a digital world.
dbx Professional
dbx Professional dbx Professional Products began in the studio environment developing noise reduction and dynamics products, and it is still in our blood. Since those beginnings we have continued to strive after audio perfection. The 160SL, 786, and Quantum II are some of the results of this pursuit. From the DriveRack series and the IEM In-Ear-Monitor Processor to our host of classic dbx analog Compressors and EQs and top-of-line Blue Series products, dbx no-compromise products are on the rosters of national touring acts night after night. From restaurants and shopping malls to nightclubs and theaters, professionals rely on dbx Professional Products to deliver unparalleled performance. Our DriveRack and ZonePRO products are designed for these applications; built to satisfy the most demanding environments.
Used Compressors and Limiters
Audio compressors and limiters are a kind of specialist hardware used to either amplify the volume of quiet sounds or reduce the volume of loud sounds, by simply compressing the '??dynamic range'?Ě of an audio signal. Audio compression is commonly used during live concerts, broadcasts and studio recording. Audio compressors and limiters, sometimes called a dynamic compressor, can manipulate the volume of sound by alternating the rate of compression through two basic functions '?? attack and release controls, which are also able to smooth the final effect of the audio output. There are many different kinds of compressors and limiters available, including very basic models with just a few simple knobs for attacking and releasing, and more advanced models which provide greater versatility when it comes to attenuating audio signals. Audio technicians place an extremely high value on compressors and limiters. An audio limiter is essential for managing the level of audio signals during recording sessions. If the volume produced by a piano for example, is not managed, the recording equipment could easily be overloaded when the pianist plays louder, impacting on the quality of the final recording. Similarly, when the pianist plays at a lower volume, audio compressors and limiters are needed to boost the volume level so that the signal remains consistent throughout. In addition to managing signal levels, compressors and limiters can also be used to create special effects and add an extra dimension to recordings. Audio limiters are able to compress dynamic range audio signals into a much narrower range, hence why they are sometimes called a dynamic compressor. The results of such audio compression include attaining a higher source signal from low volume sound, smooth and consistent tones, an increase in some musical instruments sustain and the ability to enhance the '??punch'?Ě of certain instruments, such as guitars, bass and drums.