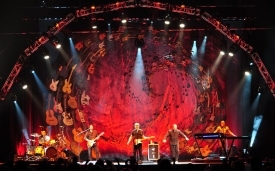 Steve Miller Band Tour with KARA and KUDO Systems
May 24th, 2011
Steve Miller was back on the concert trail once again this April, performing at a number of venues across the US alongside special guest Gregg Allman, in order to promote his newly released record Let Your Hair Down.

Making a change from their usual L-Acoustics V-DOSC system, the Steve Miller Band instead went for a full L-Acoustics KUDO-KARA system to provide the sounds for the ten legs of this most recent tour.

Chief system technician TomMartinezexplained how 12 KUDO enclosures were flown on each side for the main PA system, while six KARA arrays were used to address the extreme left and right audience areas for the shows. Elsewhere, eight small coaxial systems were used to cover the audience directly to the front of the stage, with six SB subwoofers in cardioid configuration delivering the low end to complete the set up. Powering the entire system were LA8 amplified controllers.