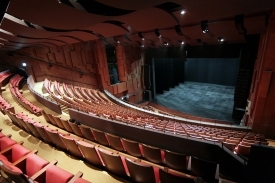 Korea D-Cube Art Center Equipped with XTi Series
October 10th, 2011
The state-of-the-art D-Cube Art Center in Seoul, Korea, has been equipped with a top of the line XTi Architectural Series, comprising aK1 WST line source and XTi coaxial system in what is the first permanentinstalmentinside a K1 theatre system anywhere in the world.

The 1,250 seat art center, situated in the futuristic D-Cube City district in Seoul, has been equipped with 2 hangs of two K1-SB subs to the left and right of stage, and eight K1s and six KARAs to provide downfill. In addition, a pair of 4 SB28 sub stacks have also been installed, set in cardoid mode and positioned just below the K1 hangs on stage, while two KIVA WST enclosures have been installed in the four balcony under-hangs. Relaying surround sound effects through the concert hall are 32 8XTi coaxial speakers.

Driving the entire system are L-Acoustics LA8 and LA4 amplified controllers.