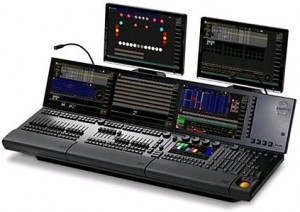 GrandMA2 Used at iTunes 2011 Festival
August 17th, 2011


Three grandMA2 light consoles were specified by lighting and visual control specialists FIX8 as the most flexible, reliable and expedient Solution to run the production lighting and video at the 2011 iTunes Festival.

The month-long, high profile event was staged at London's legendary Roundhouse Venue in Camden Town, featuring 62 international artists over 31 days including Coldplay, the Foo Fighters, Adele, Linkin' Park, Paul Simon and many, many more. The action was broadcast on TV and radio and streamed live on the internet.

The three grandMA2 consoles were networked together. One ran lights, one ran video/visuals and the third was used as a programming facility running MA Lighting's visualiser software grandMA 3D, and also as a 'hot' backup. MA Lighting UK's office supplied technical and on site service and support to the FIX8 crew who were led by Neil Trenell and Jamie Baker.

The Festival lighting designer and operator was Richard White - and this was his first experience of using grandMA2. The lighting equipment was supplied by White Light and the video by Creative Technology. Neil Trenell and Jamie Baker designed the video system which was run via two Hippotizer HD v3 I7 Media Servers, triggered by the video dedicated grandMA2 light.

Using the MA control platform enabled them to run all three consoles in one session, operating as three different worlds. This proved an exceptionally stable, versatile system which was great for improvisation and busking as well as for tightly pre-programmed cued shows. It enabled multiple users involved in the visual processes for each act to work simultaneously on their Elements, all saving to one show file which was backed up automatically on all three grandMA2. The new grandMA2 Effects Engine in particular was a big hit with everyone using it on the event.

Touring consoles brought in by some of the bands were seamlessly integrated into the grandMA2 system via DMX. This linked them to the single MA NPU (Network Processing Unit) so they could harness its immense processing power to access the full 'house' lighting and video rigs.

Manchester based FIX8 supplied the two Hippo Media Servers. Content stored on these was beamed onto five columns of Hibino 12mm LED screen onstage, along with two side screens made from Barco I-lite 6 LED and 50 panels of Spyder 30mm LED, which were fixed to the Venue's first floor balconies, primarily to provide 'filler' for some of the camera shots.

It was the third year that Trenell has spec'd grandMA2 onto the event, and the first year that it has been run with everything fully in grandMA2 mode. Doing this has streamlined the overall visual control system dramatically, reducing the number of consoles needed, whilst also offering touring LDs full and increased flexibility.

FIX8 has invested heavily in MA Lighting equipment because it is robust, very versatile and can handle pretty much everything that comes its way. "grandMA2 works equally well whether running Media Servers or lighting, either together or as separate entities," says Trenell, "It's a fabulous visual tool and at FIX8, we need to control both mediums completely harmoniously. They create their own specially tailored profiles for their grandMA2 to work precisely the way that they want.

He reckons that the new Effects Engine that has come on-stream with version 2.3 of the grandMA2 software is a vast improvement and a great boost to the functionality and user-friendliness of the console. Jamie Baker likes the fact that using the MA control architecture, you can add multiple grandMA2 consoles and MA NPU to a session as you like, and he also thinks the new Effects Engine is a great upgrade to the MA2 system.

Richard White has found his first project using a grandMA2 an entirely positive experience. I have definitely grown to like the console, he says, It has some very impressive features and a great layout that allows an operator to create complex looking shows easily and within a tight timescale.