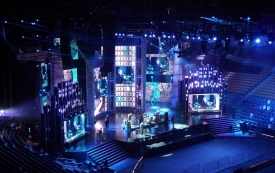 40th Annual Juno Awards Deploys L-ACOUSTICS K1 loudspeaker System
April 27th, 2011
The biggest night in the Canadian music industry is the Juno Awards, and so it was fitting that for 2011's edition that show organizers chose anL-AcousticsK1 loudspeaker system to deliver the best possible acoustic experience for the 20,000 audience in attendance.

Held at the Air Canada Center, the show featured epic performances from the likes of Broken Social Scene, Arcade Fire and Sarah McLachlan, as well as many lesser known artists.

The huge L-Acoustics system was made up of left and right arrays composed of 14 K1s, as well as three KARAs for downfill. In addition, the production team flew a six element KUDO array in between the two K1 arrays to provide extra front fill, while low frequency impact was delivered courtesy of a pair of eight element K1-SB arrays. Powering the system were LA8 amplified controllers.

The chief technician behind the installation revealed that the "highly articulate" K1 system was perfect for the Juno Awards, and claimed that it put in a superb performance on the night.