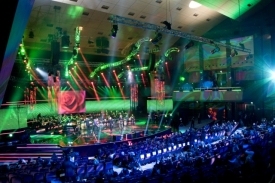 Turkish Awards Ceremony Adopts dV-DOSC WST Line Source System
May 9th, 2011
The first ever edition of the TRT Music Awards - a new ceremony described as Turkey's biggest music awards event - was held at the Lufti Kirdar Exhibition Center in Istanbul, Turkey. Besides the star-studded line up, which included musical greats likeSertab Erener and Fahir Atakolu, an L-Acoustics dV-DOSC WST Line Source System also put in an outstanding performance on the night, behind the scenes.

Technicians chose to adopt the dV-DOSC system for the event, following an acoustic simulation of the Venue which was performed with SOUNDVISION 3D software. The team went for a left/right system comprising 10 dV-DOSC cabinets, with an additional 4 SB28 subs in cardioid configuration per side.

According to reports from the audience at the show, the dV-DOSC system, which was driven by 14 LA8 amplified controllers, delivered "a Strong and consistently clear sound" across the Venue.