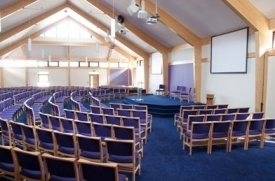 L-Acoustics XTi at Smithton-Culloden Nairn Free Church
November 4th, 2011
Specialist installation engineers have completed theinstallationof a a new L-Acoustics XTi sound system at theSmithton-Culloden & Nairn Free Church, a newly-built chapel in Inverness, Scotland.

The chapel, which frequently sees 400+worshippersin attendance, was mapped using the L-Acoustics Soundvision software in order to come up with the most optimized sound system for coverage in thebuilding. As a result of this modelling, engineers installed a system comprising 4 flown L-Acoustics 12 XTi speakers, together with 2 ground level SB15P subs in support, positioned at the sides of the stage.

An additional pair of 8XTis were also flown in order to provide optimum coverage to the seating at the sides of the chapel.

Mr. Eglinton, the technical manager of the chapel, said that he was deligthed with the performance of the sound system, which was "clear, accurate and perfectly defined."