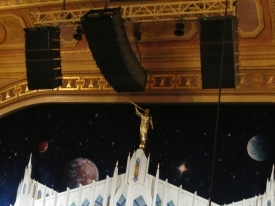 L-ACOUSTICS Overcomes Downfill with The Book of Mormon
October 17th, 2011
Sound designer Brian Ronan has been crediteddesigningthe sound system process for the production of The Book of Mormon at theManhattan Eugene O'Neill Theatre, which involved the use of an L-AcousticsdV-DOSC array to provide downfill.

Ronan was presented with a unique challenge with the sound design for The Book of Mormon, have to overcome the false proscenium which was used on stage in the production and interfered with downfill.

So as not to occlude the proscenium, Ronan hung a ninedV-DOSC cabinet downfill array horizontally above the proscenium, together with a pair of 6dV-DOSC arrays along each flank of the center array in order to address seats in the mezzanine. Completing the set-up were another pair of 5dV-DOSC arrays hung from the lighting Truss at the front of house to cover balcony seats.

Meanwhile, asingle dV-SUB Subwoofer system was used for low-end reinforcement on the orchestra floor, while a three dV-SUB cluster was used to create a cardioid low frequency effect.