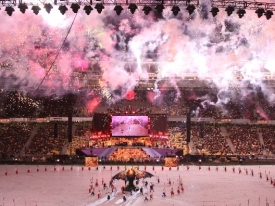 Kiev Olympic Stadium Gets K1 WST Line Source System
November 9th, 2011
Kiev's Olympic Stadium, which will host several international matches in next year's UEFA European Football Championship 2012, has had a top of the range L-Acoustics K1 WST line source system installed as part of itspreparationsfor the tournament next summer.

Vlad Voloshuk, coordinator of the Euro 2012 finals, invited top sound engineer Andrey Akhromeev to design a customized sound system for the new stadium in preparation for next summer. The result is a high performance system based on the SOUNDVISION acoustic design software,consistingof 18 K1 boxes, six K1-SB subs on each side and an additional twelve K1s side hangs on each side.

The system, which has been designed to give perfectly even coverage throughout the stadium, will be powered and driven by 16 LA-RAKS, and 48 LA8 amplified controllers, while infrasonic low end content is provided via more than 32 SB28 subs.