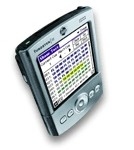 Figment DMX
December 15th, 2011
Introducing Figment DMX, the first handheld DMX control Solution to bridge the gap between handheld DMX test equipment and full-sized desktop consoles.
Figment DMX is a tool powerful enough to act as a remote focus tool, a designer's remote, a stand-alone console and a DMX troubleshooting tool, all while being extremely easy to use and a pleasure to put in your pocket.
Figment DMX is a software application that runs on the highly popular Palm OS platform. By leveraging the power of a Palm-based handheld computer (PDA), Figment DMX is able to put more lighting control features in the palm of your hand than ever before:
New In Version 5.1 - Wireless connections to Sidewinder with the optional Sidewinder Bluetooth Module and a Bluetooth-enabled PDA and more.Elegant Moving Light controls with exclusive "Reverse-Lookup" capable libraries for viewing DMX input in native fixture language.Conventional stage views that display up to 80 channels at a time.Customizable Cue Lists that support fade time, follow times, links and even cue names.Keypad command entry for easy and natural operation and/or very powerful Graffiti command language for the ultimate in control.Fully configurable macro system for customizing shows, including an exclusive "Touch-panel" of on-screen macro buttons.Both conventional fixture patching and flexible access to unpatched channels.Multiple show file capability allows users to switch between any number of shows, each including a different patch, cue list, macros, groups and other settings.DMX Diagnostic functions, including channel view, flicker finder, DMX statistics (MAB, rate, etc.), channel output, test packets and even double-ended Cable testing.Program stand-alone playback shows for the Sidewinder DMX console interface.Full PC & Mac synchronization for transferring show files and fixture libraries.Plus all of the additional benefits of the Sidewinder DMX playback interface hardware.And much more...