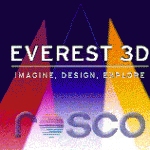 Everest 3D
December 15th, 2011
Rosco's Everest 3D offers student designers and experienced professionals an affordable tool to accelerate the process of creating light plots. This Windows-based program creates either two-dimensional or three-dimensional stage pictures, in color, as you design your plot. As you refine your design, the Everest 3D screen adjusts the visualization for placement, shape, color, or any other element of stage design.
Everest 3D was designed and developed for theatrical designers. It contains all of SoftPlot as a data base, so all the shapes, symbols and data for lighting instruments are readily available, as are all the SoftPlot reports and schedules. In addition, Everest 3Ds data base includes all the widely used stagecraft components, such as trussing, rigging, tables, walls screens, etc.
Because its Windows based, Everest 3D is amazingly easy to learn and use. Most theatre people can start drawing plots immediately. A day or two using Everest 3D and youll never go back to pencils, erasers and drawing paper again!Any stage picture or design you create on Everest 3D can be saved as a BMP or similar file. Imagine the convenience of showing the director or other members of the team a number of design choices in a scene. You can solicit feedback and make adjustments, even if other members of the design team are in a different city or a different time zone.
Everest 3D is easily integrated with the Horizon lighting control program. You can create your plots, drawings, visualizations and paperwork on Everest 3D and then run the show cues on Horizon. The design process with Roscos Everest 3D and Horizon becomes create it, draw it, visualize it, save itand run it.
System RequirementsEverest 3D system requirements are Windows 98, 2000, ME or XP; 1 GHz Pentium or compatible processor; 256 MB RAM, 100 MB freedisk space; 800x600 or better screen resolution; open GL compatible display adapter with minimum 16MB video memory. Note: These are minimum requirements. Faster processor and additional memory will enhance the performance of Everest 3D. A high-end compatible display adapter card will improve graphic rendering performance.