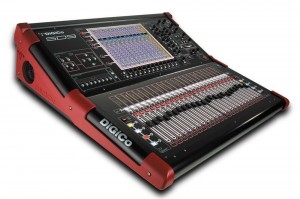 Digico SD9 Upgrades Promise More Processing Power
November 12th, 2011
DigiCo's FPGA technology that is built into the SD9 is getting a boost from a new release of free software and firmware upgrades. The upgrades are supposed to free up more of the FPGA's processing power. In some Cases they are reporting up to 100% power on select features.

This upgrade is free to call existings SD9 owners and is also included with any SD9 console purchased up until the last day of ProLight+Sound 2012.

The SD9 Supercharged has a significant expansion in Channel count, Dynamic EQs, Multiband Compressors and Matrix, and the addition of DiGiTuBes, Reorder of Busses and Multichannel inputs (formerly only available on SD7).
Further new features include an expanded Aux Panel, increased Dynamic functions such as a Duck option and expander for the Gate, a De-esser and two types of Knee for the Compressor. There are also new FX types with multitap, ping pong and stereo delay, with different delay times for left and right. A warmth button is provided on each channel for analogue emulation and two types of EQ have been added (Classic and Precision). There are also now Standard template sessions.

Another new feature, Sets (previously only available on SD7T), has been enhanced to allow for Set Spill. This allows the user to create Sets and, with a simple button press, change the console layout to display members of that Set.
All of this means that SD9 Supercharged has more features and functionality than any other console in its class.