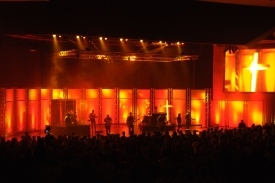 Christ Fellowship Church Gets First KARAi System in US
November 11th, 2011
The 16,500 capacityChrist Fellowship Church in Palm Beach County, Florida, has been outfitted with a new L-Acoustics amplifier andloudspeakersystem, it was reported yesterday.

The new system was designed totake theexperienceof worshippers at the church to a whole new level - and that's exactly what the SOUNDVISION-designed Solution has done.

The Solution is immensely powerful - featuring SB18i and KARAi enclosures that are the first of their kind in the US, and powered by an LA8 and LA4 amplified controller combo, with additional LA-AES3 (AES/EBU) cards. Included in the enclosures are 3 KARAi arrays set-up in an LCRconfiguration, which are neatly concealed above the stage in soffits. In between the two spaces between the KARAi are 2 four-box SB18i sub arrays arranged in cardioid configuration, while two floor mounted SB28 subs beneath each KARAi array complete the new set up.

Other new additions include L-Acoustics coaxial enclosures to provide downfill and seven 8XTi speakers mounted near the stage front, in order to provide frontfill.