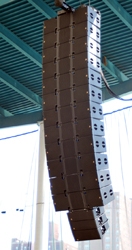 Adamson Releases Project Energia
September 26th, 2011
Adamson Systems Engineering is proud to announce the commencement of the much anticipated Project Energia. The project was conceived after years of analyzing the inefficiencies found in Sound Re-enforcement and with Performance Venue Optimization. The key components of Energia, include a series of new loudspeaker systems, with networkable Class D amplifier modules, DSP, Cable and Power Distribution, AVB network hardware with software integration of control, 3 dimensional simulation and diagnostics. To ensure reliability and a smooth integration of Adamson's technology, there are 3 phases involved in the release of the first loudspeaker system in Project Energia.

Phase 1 - Mechanical Field Testing

Phase 2 - Class D Amplifier, Power Distribution and Ground Control Field Testing

Phase 3 - Network and Network hardware Field Testing

In July of 2011 , Phase 1 began, when Adamson unveiled the E15 Line Source system with a series of strategic beta partners.

Eighth Day Sound (USA), Wigwam Acoustics (UK), Fluge (Spain) and Big Daddy Productions (Indonesia) have all taken delivery of the E15 Line Source Array. The new system will be found on a variety of fall tours and large format events around the world. Additional Energia Beta systems are now in place with distribution partners DV2 in France, Adamson Europe GmbH in Germany and in Singapore with long time partner Team 108.

Brock Adamson, President and CEO states, "Phase 1 of Energia is designed to ensure the highest acoustic and mechanical performance of the E15, while we simultaneously begin testing our new 3-dimensional Blueprint simulation software. Once we're finished evaluating transducers, sound chambers and the mechanical Elements of the system, we will introduce our new Class D amplifier modules, Power Distribution and Ground Control system for Phase 2. We did not want to simply re-package our old systems and offer them as though they were something new. On the contrary, we wanted to provide something exciting that hasn't been done. Pushing the boundaries of technology is what makes our industry great. Our team is very pleased with the feedback and support coming from our field test partners so far. We couldn't ask for a better team of industry professionals to help us bring Project Energia to life."