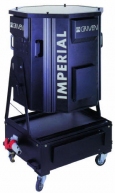 IMPERIAL utilises a Xenon 4000W lamp to produce a single narrow searchlight beam. The motorised reflector (PATENTED) precisely sweeps the beam through the sky, with up to 50deg of pan and tilt possible. The high reflectivity optics and precision focus setting, via the adjustable lamp tray, ensure a superbly bright perfect light beam normally visible at distances of more than 20 Km. Control features are comprehensive: six stand alone pre-set sequences are inbuilt, with control of these and pan, tilt and speed on board or full control of all functions can be achieved via 4 channels of DMX512 digital standard. Multiple units can be operated in synchrony.
Naturally, the unit is completely weatherproofed against even extreme conditions, able to withstand temperatures as low as -30degC and as high as +50degC. The steel body is zinc plated and finished in scratch resistant polyurethane paint. IMPERIAL is a performer at outdoor live concerts, a star at evening celebrations and turns any evening event into a show!
Griven
Established in 1990, Griven of Italy manufacture a full range of vastly acclaimed lighting effects, intelligent scanners built to the highest quality standards and professional class moving head projectors available throughout the world from a network of specialist outlets. A complete collection of products for the professional theatre market is available by Griven, as well, including Fresnels, profiles and followspots. Griven also lead the way in the architectural lighting market with a comprehensive range of quality, high reliability and fully weatherproofed products: from the most powerful exterior colour changers to the renowned single and multi beam sky projectors. High build and design standards are coupled with constant research and development, leading to true technical innovation. Griven can change the exterior world we know, for a new era of an ever changing dynamic flow of colour and light.
Used Promotional