Used Stage Lighting
Buy & Sell used stage lighting and theatrical lighting at Solaris. We sell used stage lighting, lighting consoles, LED lighting and more at heavy discounts and ship direct to every continent in the world.

Used stage lighting saves 20-80% off of new pricing and helps production companies and churches grow faster by taking advantage of more equipment rentals. Solaris sells more moving lights (ie. automated lighting), lighting consoles, LED wash lighting, scanning/ moving mirror lights and effects than any other used distributor in the world.

We sell the best possible brands of lighting to production companies on every continent and only work with the best possible event lighting suppliers. You will find used stage lighting from such popular brands as Vari-lite, Martin Professional, Clay Paky, Robe, Coemar and JB Lighting.

Used stage lighting is what Solaris specializes in. For all your used stage lighting needs you need go no futher. Stage lighting came about as a need for theatre enhancement. The Greeks had their theatres in the open air where the sun could light the stage. Plays would occur at different times of day to take advantage of the different lighting.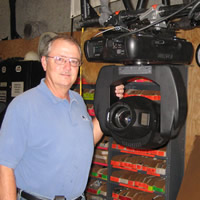 TLS chooses Solaris for Used Stage Lighting

Award winning US company Theatrical Lighting Systems (TLS) buys used stage lighting from Solaris.
Solaris™ found us VL2500s for our Women in Faith tour that were in like new condition. No matter what inventory levels we have when we send out our touring packages we are always short a few fixtures. We have been buying some of those fixtures to fill our inventory short fall from Solaris. They can find used stage lighting we need and in the condition and price range we need
.