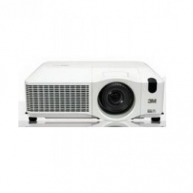 3M X95i Projector
Digital Multimedia Projector
3M
A Global Innovation Company 3M is a global innovation company that never stops inventing. Over the years, our innovations have improved daily life for hundreds of millions of people all over the world. We have made driving at night easier, made buildings safer, and made consumer electronics lighter, less energy-intensive and less harmful to the environment. We even helped put a man on the moon. Every day at 3M, one idea always leads to the next, igniting momentum to make progress possible around the world. Our Values Act with uncompromising honesty and integrity in everything we do. Satisfy our customers with innovative technology and superior quality, value and service. Provide our investors an attractive return through sustainable, global growth. Respect our social and physical environment around the world. Value and develop our employees' diverse talents, initiative and leadership. Earn the admiration of all those associated with 3M worldwide. 3M at a Glance (Year-end 2014) Global sales: $31.8 billion. International (non-US) sales: $20.1 billion (63 percent of company's total). Operations in more than 70 countries. 3M products sold in nearly 200 countries. 89,800 employees globally. 2014 3Mgives cash and product donations totaled $77 million. For the most up to date financial information, please visit our Investor Relations (Worldwide, English).
Used Video Projectors
Video projectors such as a digital video projector or an LCD projector are an alternative to regular video screens in that they project images directly onto a screen, rather than projecting the video from behind as a television or monitor does. Video projectors use a lens system and project an extremely bright beam of light onto a screen. Modern video projectors such as a 3 chip DLP projector have are extremely intricate and able to correct inconsistencies in the image such as blurriness and curvature. Video projectors are commonly used in concerts and theatres, and they have many other applications in educational and business settings. They can also be used as part of a home theater system. There are a vast range of different video projectors available. The old CRT projectors are surprisingly still quite widely used, as they are able to project a very large image size, although the bulkiness of the cabinet is not so popular. For professional use in theatres and concerts, the DLP projector is one of the preferred models. DLP video projectors use 1, 2 or 3 Digital Micromirror Devices, called DMDs, which are essentially microfabricated light valves. The 1 chip DLP projector and the 2 chip DLP projector have been known to experience a problem however '?? viewers can sometimes perceive a '??rainbow'?Ě on the projection screen, and so the 3 chip DLP projector is more popular, as this is able to display each primary color in a simultaneous fashion, so the problem doesn'??t occur. The LCD flat panel model is perhaps one of the most popular video projectors for home and business use, as it is both affordable and simple to use. Other video projectors include the LCoS projector, LED projectors, Laser Diode projectors and hybrid LED/Laser Diode projectors.