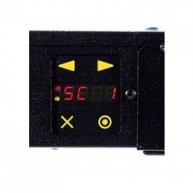 Database Error
Message:
MySQL Query fail: select REGISTERED_MODEL, ID_REG_MODEL, registered_manufacturers.REGISTERED_MANUFACTURER FROM registered_models LEFT JOIN registered_manufacturers ON ( registered_manufacturers.ID_REG_MANUF = registered_models.ID_REG_MANUF ) where REGISTERED_MODEL REGEXP '[[:alnum:]]+' && SEO_EXCLUDE_KEYWORD != 1 && LENGTH(REGISTERED_MODEL) >= 5 order by rand()
MySQL Error:
Error writing file '/var/tmp/MY5HDUkp' (Errcode: 28 - No space left on device)
Date:
Thursday, November 23, 2017 at 9:09:18 PM
Script:
/used/rainbow-12-inch-pro/39333
The new Rainbow Scroller generation captivates by:
Special colour mode: To avoid the burning out of filters with a low transmission value
Extensive parameter possibilities: Adjustment of different positioning modes from the console
Improved voltage tolerance and over voltage protection ensures highest operational safety
Compatible use and operation with former
Rainbow Colour Changers
New: Update cable allows the software update of the new Rainbow PRO2 electronic hardware from any Windows-based PC with USB output
Approved Functions and Features
In addition to the distinguishing characteristics mentioned above, the approved functions and features build the foundation for a scroller which offers unequalled opportunities:
Convincing technology
Supports three different positioning modes:
Full colour frame mode
Half colour frame mode
Direct positioning
Direct positioning of gelstring at power-up without calibration in all modes
Single control channels for colour, fan, motor speed and control; independently addressable
Programmable automatic operation with variable parameters for use without additional control board
Individual configurations of features and automatic functions
High ease of use
Comfortable, easy operation via built-in display (key operated menu guide)
Solid aluminium housing with demountable front panel for optimum access to the scrolls
Variable mounting possibilities via separate adaptor frames or universal adaptor
Mounting devices for accessories such as top-hats and barndoors at the front
24 hours in-house Service
24 hour in-house service for colour strings and
Cables
based on your particular demand
Proven LIGHTPOWER Support for Hardware and Equipment
By this,
Rainbow Colour Changers
meet the requiremen
Used Color Scrollers
Find used color scrollers in well maintained condition from such popular brands as Altman, Strong, Lycian, Strand and James Thomas Engineering. All products come with warranties and are tested before shipping to you. Solaris sells and buys secondhand and used color scrollers for film, TV, auditoriums, concerts and theaters. If you do not find what you are looking for give us a call and we will quickly find it for you.