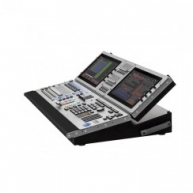 Database Error
Message:
MySQL Query fail: select REGISTERED_MODEL, ID_REG_MODEL, registered_manufacturers.REGISTERED_MANUFACTURER FROM registered_models LEFT JOIN registered_manufacturers ON ( registered_manufacturers.ID_REG_MANUF = registered_models.ID_REG_MANUF ) where REGISTERED_MODEL REGEXP '[[:alnum:]]+' && SEO_EXCLUDE_KEYWORD != 1 && LENGTH(REGISTERED_MODEL) >= 5 order by rand()
MySQL Error:
Error writing file '/var/tmp/MYTsSqud' (Errcode: 28 - No space left on device)
Date:
Saturday, November 25, 2017 at 2:52:49 AM
Script:
/used/m6/43539
The M6 is a state-of-the-art lighting console that functions as a highly advanced visual control surface. Designed to control everything from conventional and
Moving Lights
to the most advanced media server, the M6 has been designed for todays demanding multimedia shows and tomorrows challenges.
Based on the well-proven M-Series software platform, the M6 provides users the ultimate control surface for fast programming and extensive playback control all from one console. Incorporating the latest available technologies with an industrial multi-
CORE
processor, solid-state drives and custom-designed high-brightness touch screens, the M6 is capable of delivering up to 64 DMX universes directly from the consoles network ports without using costly external processors.
Advanced features like a LiveBlender T-Bar, FastDial rotary encoders, Paired Playback buttons and BriteTouch display make the M6
Martin
s most advanced console design ever. It offers a total of 44 playbacks, including dual Main Go sections, 10 motorized faders and 12 additional faders, as well as a total of 17 encoders for parameter access.
The
Martin
M6 comes standard with a full MSD 5 Gold visualizer license on its own separate One-Key for the conveniences of designing and programming offline. More information on MSD at www.martinshowdesigner.com
Martin Professional
Martin is the maker and distributor of entertainment control and intelligent lighting and effects. Martin uses the latest technologies to create these amazing machines for the entertainment industry. Martin is also a maker of high end sound systems known as
Used Lighting Consoles
Find used lighting consoles and lighting desks in well maintained condition from such popular brands as MA Lighting, High End Systems, Avolites, Jands and Martin Professional. All used lighting consoles come with warranty and many have been certified by factory technicians. Solaris sells and buys secondhand and used lighting consoles desks for touring production, churches, theaters, film, television and more. If you do not find what you are looking for give us a call.
Database Error
Message:
MySQL Query fail: select MODEL, ID_ITEM, SUBTITLE, DESCRIPTION, QUANTITY,STATUSS from items where STATUSS LIKE '%SOLD%' && PRICE_FINAL_US >0 && QUANTITY >0 && ID_ITEM != 43539 && ID_REG_MODEL = 11452 && LENGTH(SUBTITLE) > 0 && LENGTH(DESCRIPTION) > 0 order by rand()
MySQL Error:
Got error 28 from storage engine
Date:
Saturday, November 25, 2017 at 2:52:49 AM
Script:
/used/m6/43539