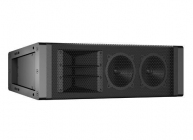 The Meyer Sound M1D ultra-compact curvilinear array loudspeaker brings the singular advantages of self-powered line arrays to sound reinforcement applications in small and mid-sized venues. The exceptionally compact enclosure enables sound designers to achieve high output, precise pattern control with very low distortion from a lightweight and unobtrusive system. The M1D provides a substantial peak SPL of 125 dB at 1 meter with an operating frequency range of 60 Hz to 18 kHz and is designed specifically for implementing vertical curvilinear arrays of up to 16 cabinets having 0- to 8-degree splay between adjacent units. This design affords the flexibility to tailor vertical coverage by varying the number and splay of cabinets in the array while maintaining a consistent 100deg horizontal coverage.

The M1D loudspeaker system comprises two 5-inch cone drivers and three 0.75-inch high-frequency metal dome tweeters with neodymium magnets. To assure the smoothest response in the critical midrange, the M1D incorporates a complex crossover design similar to that pioneered in Meyer Sound's UPM loudspeakers. At the lowest frequencies, both 5-inch drivers combine to reproduce powerful, coherent bass. In the mid frequencies, however, the crossover feeds the signal to only one driver; this technique eliminates interference between the two drivers (that would otherwise occur at shorter wavelengths) in order to maintain optimal polar and frequency response characteristics. The three vertically aligned dome drivers act as a small line array, focusing the sound into a tight vertical coverage pattern while the constant-directivity horn maintains broad horizontal coverage.

The bi-amplified M1D incorporates a complementary MOSFET power amplifier module with 500 watts total burst capability, together with active crossover and optimized frequency and phase response correction circuitry. An Intelligent AC Power Supply selects the correct operating voltage in the range of 90 to 264 V AC at 50 or 60 Hz, allowing international use without manually setting voltage switches. The Intelligent AC supply also performs protective functions to compensate for hostile conditions on the AC mains. Integral peak and rms limiters protect the loudspeaker components from over-excursion and over-heating.

The M1D's vented, trapezoidal cabinet is constructed from multiply hardwood and has a textured hard shell finish. The M1D incorporates QuickFly rigging as standard, and utilizes connecting links that are secured to the steel and aluminum rigging end frames by quick release pins. An ingenious arrangement of rigging holes allows quick and easy adjustment of cabinet splay for maximum freedom in customizing vertical coverage. The optional QuickFly MG-1D Multipurpose Grid allows either flying or ground stacking various combinations of M1D and M1D-Sub. Up to 16 M1Ds (or the equivalent weight of M1D and M1D-Sub) with a 7:1 safety factor may be flown, or up to eight M1Ds or four M1D-Subs may be ground stacked. For flying only, the simpler optional MTG-1D will support up to 16 M1Ds (or the equivalent weight of M1D and M1D-Sub) with a 7:1 safety factor.

M1D comes equipped with Meyer Sound's RMS remote monitoring system as standard. RMS allows the full range of operating parameters to be monitored over a network using a Windows computer.
Meyer Sound
Established by John and Helen Meyer in 1979, Meyer Sound has been at the forefront of innovation in audio engineering for over two decades. From the outset, Meyer Sound looked beyond loudspeaker cabinet design to create totally integrated, systems-comprehensive solutions that encompass transducer design, signal processing, power amplification and even electroacoustic measurement systems. As a result, Meyer Sound's engineering teams have earned an enviable reputation for developing unique, innovative solutions to some of the most difficult problems confronting audio professionals. In fact, it is fundamental to John Meyer's philosophy that no component of a system should be compromised in order to compensate for variables "upstream" or "downstream." Instead, the entire system should be conceived, designed, tested, confirmed and manufactured as a whole to provide the optimum blend of audio fidelity, utility and long-term reliability.
Used Line Array Speakers
Find used line array speakers and line array elements from such popular brands as L-Acoustics, d&b audiotechnik, Meyer Sound and Nexo. All used line array speakers are warrantied and in most cases inspected by factory certified technicians. Solaris sells and buys secondhand and used line arrays for large concerts, tours, stadiums and auditoriums. Call us if you don't find it and we will find it for you.
M1D - Package of (16) M1D, (8) M1D Subs, (1) Galileo 616, and (3) UPM1P in great condition.
M1D - Ultra compact curvilinear array loudspeaker. Complete with (2) MRF-1D rigging frames and RMS.
M1D - Corporate use only
M1D - Package-(16) M1Ds, (2)-MTG-1D,(4)-600HP,(1) LD-3
M1D - Package - 16 Meyer Sound M1D loudspeaker package.
M1D - Package of (16) M1D in great condition.