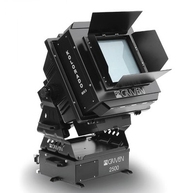 KOLORADO MK3 2500 utilizes an HMI 2500/GS lamp (Sfa 21 -12 base) and shares a similar wide angle output and the CYM colour mixing system of its small brother Kolorado mk3 1800. However it offers, with its newly conceived patented optical system an extremely powerful light output, giving the ability to cover greater areas or distances, and indeed effective use in a higher level of ambient light, than the 1800W version. Like this version, Kolorado MK3 2500 has a uniform colour coverage, creating superb effects. The detachable ballast unit is separable from the main unit by up to 20m, and this and the relatively resultant relatively compact size of the main unit can greatly facilitate both portable use and fixed installations. Control is the same as the 1800W, with selectable inbuilt speed controllable pre-programmed colour blend sequences, or full control from standard DMX512, in which mode the lamp on/off can be remotely operated. A stand by function reduces power consumption automatically by 33% after blackout have been activated for more than 15 seconds. The aluminium and galvanized steel body, with certificated IP44 weather protection, is coated with black epoxy powder paint for exterior use. A new version of this unit using the 2000-hour MSA 2500W lamp is now available (Kolorado 2500 MK3 LL GR0457).

Existing KOLORADO MK3 2500W user note: upgrade to the long life lamp version on request.
Griven
Established in 1990, Griven of Italy manufacture a full range of vastly acclaimed lighting effects, intelligent scanners built to the highest quality standards and professional class moving head projectors available throughout the world from a network of specialist outlets. A complete collection of products for the professional theatre market is available by Griven, as well, including Fresnels, profiles and followspots. Griven also lead the way in the architectural lighting market with a comprehensive range of quality, high reliability and fully weatherproofed products: from the most powerful exterior colour changers to the renowned single and multi beam sky projectors. High build and design standards are coupled with constant research and development, leading to true technical innovation. Griven can change the exterior world we know, for a new era of an ever changing dynamic flow of colour and light.
Used Follow Spots
Find used follow spots in well maintained condition from such popular brands as Altman, Strong, Lycian, Strand and James Thomas Engineering. All products come with warranties and are tested before shipping to you. Solaris sells and buys secondhand and used follow spots for film, TV, auditoriums, concerts and theaters. If you do not find what you are looking for give us a call and we will quickly find it for you.