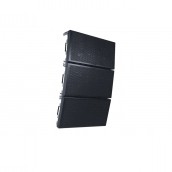 The K-array KH4 is a high performance self-powered, 2-way line array speaker system. At just over 51 Kg (113.32 lb) and 16 cm deep (6 inches), its ultra-compact aluminum enclosure contains an incredible reserve of power.that ensures very high sound pressure, with wide consistent (120) horizontal coverage. It has the unique capability for varying the vertical coverage from 7 (line array applications) to 37 (stand alone). The KH4 is suited for medium to long throw applications in theaters, stadiums, houses of worship and concert halls. The KH4 integrated with the KS4 self-powered dipole Subwoofer, creates a high performance large scale Solution. The KH4 can also companion with the KH15 Satellite, and KO70, KO40 self powered sub bass Elements. The KH4 uses twelve 8-inch cone drivers with 2.5 voice coils for low-mid frequencies, powered by six power amplifier channels. The mid-high frequency section uses five 1.75 voice coil compression drivers mounted on 1x 4 constant directivity waveguides. The drivers form an array exactly in the centre of the speaker. A mechanical system can provide different vertical coverage from 7 to 37 on each KH4. An internal DSP module provides configuration presets. Dedicated Remote Control software allows for control of the speaker from a computer. All KH4 components are designed by the K-array R&D department and custom made under the K-array quality control system in Italy.
K-array
Used Line Array Speakers
Find used line array speakers and line array elements from such popular brands as L-Acoustics, d&b audiotechnik, Meyer Sound and Nexo. All used line array speakers are warrantied and in most cases inspected by factory certified technicians. Solaris sells and buys secondhand and used line arrays for large concerts, tours, stadiums and auditoriums. Call us if you don't find it and we will find it for you.
KH4 - Package of (2) KH-4 and (6) KS-4 in great condition.
KH4 Turn Key System - Turn Key KH4 System in good condition, previously used in tours.