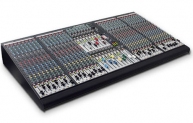 Database Error
Message:
MySQL Query fail: select REGISTERED_MODEL, ID_REG_MODEL, registered_manufacturers.REGISTERED_MANUFACTURER FROM registered_models LEFT JOIN registered_manufacturers ON ( registered_manufacturers.ID_REG_MANUF = registered_models.ID_REG_MANUF ) where REGISTERED_MODEL REGEXP '[[:alnum:]]+' && SEO_EXCLUDE_KEYWORD != 1 && LENGTH(REGISTERED_MODEL) >= 5 order by rand()
MySQL Error:
Error writing file '/var/tmp/MYY8DE5N' (Errcode: 28 - No space left on device)
Date:
Saturday, November 25, 2017 at 2:42:19 AM
Script:
/used/gl2800m/44747
Dedicated to the job Top end monitor mix capability is now accessible to the budget conscious sound provider. The popular GL Series has grown with the addition of the GL2800M, a dedicated monitor console offering an easy to use, innovative tool set for simultaneously mixing large numbers of wedges and in-ears. With the benefits of personal freedom, a tailored mix for each musician and a quiet stage, IEM monitor systems have become increasingly popular with performers and engineer's alike. Although IEM has become a lot more affordable, the console required to run them properly is typically too large, complex or expensive for all but the biggest budgets. Meet the GL2800M... affordable, capable and easy to use - without compromise, exactly right for the job. 16 mixes with stereo capability Stereo gives the performer a more natural listening environment but can be impractical for many sound providers as it doubles the number of mixes needed, often exceeding the capability of the console available. The GL2800M packs in a massive 16 mixes letting you control up to 8 stereo in-ears or more as combinations of wedges and in-ears. Multiple stereo in-ear mixing presents new challenges to the monitor engineer. You need to balance every source including ambience within the stereo image according to the preference of each performer. The GL2800M provides tamperproof global mono/stereo assignment of its 16 mixes. Each stereo mix has level and pan control as well as stereo AFL signal checking for quick mixing without compromise.
Features
?24, 32, 40 and 48 channel frame sizes
?16 mixes globally assigned as mono or stereo with level and pan
?Built-in mic splitter with ground lift switching
?All masters include polarity switch, swept HPF and 6dB dim function
?Mix 1-8 include 2 band swept frequency output EQ
?Engineer's IEM and wedge
Monitors
with faders, meters, inserts and XLR
?IEM/wedge monitor external inputs for FOH comms and IEM rack monitoring
?Mix AFL assignable to either wedge or IEM monitor
?PAFL logic includes PFL override AFL, mono/stereo AFL, PFL to wedge enable
?Headphones follow IEM mode, includes and 3.5mm jacks
?Talkback with independent selection to all mixes and external output
?Talk latch mode for use with switched hand held talkback mic
?Built-in oscillator/ pink noise generator assignable to any mix output
?Built-in dual supply combiner for additional power supply as a backup
?4 mute groups
?Compact footprint ideal for flight casing and saving space at side of stage
?Solid, individual card, nutted pot construction in a no nonsense all steel chassis
?The best of analogue - great sound, reliable and easy to use
The GL2800M ships with mains leads, user guide, A&H stickers