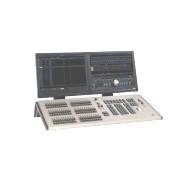 Database Error
Message:
MySQL Query fail: select REGISTERED_MODEL, ID_REG_MODEL, registered_manufacturers.REGISTERED_MANUFACTURER FROM registered_models LEFT JOIN registered_manufacturers ON ( registered_manufacturers.ID_REG_MANUF = registered_models.ID_REG_MANUF ) where REGISTERED_MODEL REGEXP '[[:alnum:]]+' && SEO_EXCLUDE_KEYWORD != 1 && LENGTH(REGISTERED_MODEL) >= 5 order by rand()
MySQL Error:
Error writing file '/var/tmp/MYthIY2B' (Errcode: 28 - No space left on device)
Date:
Thursday, November 23, 2017 at 10:48:34 PM
Script:
/used/element-40-500-ch/46957
The basics of lighting control, redefined.
Based on ETC's award-winning Eos control system but with a simplified feature set in a stand-alone console, Element was designed expressly for modest rigs and maximum hands-on fader control. Affordable and easy to use, Element packs in the fundamentals of lighting control. Element comes in two hardware versions, based on fader count, to suit your rig. Each supports either 250 or 500 channels and two full universes of DMX output:
Element 40 250 Channels
Element 40 500 Channels
Element 60 250 Channels
Element 60 500 Channels
Lighting control in your Element
Channel Faders Not just any channel faders true LTP channel faders that you can use for simple shows directly or to build up looks for use as submasters or cues, or to actually edit levels stored in subs or cues live.
Submasters Turn a switch, and your channel faders become 40 Submasters for simple playback of live shows. Need subs all the time? The Element 60 provides 20 dedicated submaster faders in addition to the 40 switchable channel/submaster faders.
Cue List Record cues and fade times into Element's single cue list for simple playback of more complex shows using a GO button. When you're ready, use more complex timing functions like cue parts and follows to create more intricate lighting transitions.
Effects Record effects directly into cues or load them into Submasters for even more dynamic lighting looks.
Accessory, LED and moving-light controls At the press of a button, the On Demand ML Controls appear on screen with tools designed to control smaller numbers of non-intensity equipment like scrollers, gobo rotators and mirror heads for conventional fixtures. Color and Gel Picker tools let you apply just the right color to LEDs and color-mixing accessories and fixtures. Intensity, Focus, Color and Beam Palettes let you store commonly-used settings to buttons you can label yourself.
ETC quality and support From on-screen prompts to the Help system to video tutorials to ETC's online Community Forums and acclaimed 24/7 Technical Support ETC is in your Element.
The ideal element for Element
Smaller venues like schools and houses of worship with a single console operator or volunteer staffers
Rigs outfitted predominantly with conventional fixtures (spotlights, PARs,
Fresnels
, etc. and their accessories scrollers, mirror heads, gobo rotators, etc.)
Rigs with some LED fixtures and/or a small number of simple
Moving Lights
Electronic Theatre Controls
Since its founding by Fred Foster in 1975, ETC (Electronic Theatre Controls, Inc.) has become a global leader in award-winning entertainment and architectural lighting equipment. ETC's fixtures, lighting control consoles, dimmers and distribution products are the backbone of lighting systems in venues worldwide - from schools and churches, to community theaters and TV studios, to opera houses and theme parks. Over the first decade of its history, ETC earned a reputation for sophisticated microprocessor-based lighting control consoles. By 1990, ETC had acquired Lighting Methods, Inc., a Rochester, New York-based manufacturer of entertainment dimming systems. ETC quickly became one of the largest fully-integrated entertainment lighting control manufacturers in North America, with offices in Middleton, WI; Orlando, FL; Rochester, NY; and Hollywood, CA. The next phase of growth began in 1995, when ETC acquired the lighting control division of London-based distributor ARRI GB. That same year, ETC opened an office in Hong Kong, extending its expansion into Asia. In 1997, ETC opened an office in Copenhagen, Denmark, to serve the Northern European market, and a year later opened an office in Rome, allowing greater access to Southern Europe. ETC acquired Transtechnik Lichtsysteme, Holzkirchen, Germany in 2002, widening ETC's market potential in Europe. Continuing its growth, ETC took an equity position in Avab France in 2003. In 2004, ETC acquired Dutch sine wave dimming manufacturer IES and its industrial weighing and measuring division Penko Engineering BV, both located in Veenendaal, the Netherlands. Beginning March 31, 2005, all formerly separate operations of ETC in Europe joined under the common corporate banner of ETC. ETC's new international headquarters, located in Middleton, WI (near the state capital Madison) serve as hub of global administration and manufacturing. Through the years, ETC has gained an industry-wide reputation for outstanding service and customer support. ETC not only maintains in-house, 24-hour Technical and Customer Service staffs, but an extensive network of factory-trained, authorized field service centers.
Used Lighting Consoles
Find used lighting consoles and lighting desks in well maintained condition from such popular brands as MA Lighting, High End Systems, Avolites, Jands and Martin Professional. All used lighting consoles come with warranty and many have been certified by factory technicians. Solaris sells and buys secondhand and used lighting consoles desks for touring production, churches, theaters, film, television and more. If you do not find what you are looking for give us a call.
Database Error
Message:
MySQL Query fail: select MODEL, ID_ITEM, SUBTITLE, DESCRIPTION, QUANTITY,STATUSS from items where STATUSS LIKE '%SOLD%' && PRICE_FINAL_US >0 && QUANTITY >0 && ID_ITEM != 46957 && ID_REG_MODEL = 7776 && LENGTH(SUBTITLE) > 0 && LENGTH(DESCRIPTION) > 0 order by rand()
MySQL Error:
Got error 28 from storage engine
Date:
Thursday, November 23, 2017 at 10:48:34 PM
Script:
/used/element-40-500-ch/46957