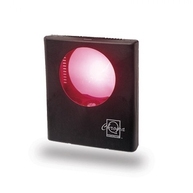 The Chroma-Q Broadway is specifically designed for low noise environments and features a unique cooling system comprising of three low noise fans. With its constant tension system the colour scroll will remain evenly aligned and tensioned at all times. The Broadway fits a wide range of smaller aperture fixtures, including the ETC short Source 4, Altman Shakespeare and Selecon Pacific.
Has been Discontinued
Chroma Q
The new Chroma-Qâ?¢ Plus colour changer builds on the great success of the Original colour changer and adds new, advanced features, while maintaining the affordable price. With over 30,000 units sold worldwide, the Original's industry proven performance and reliability is combined in the Chroma-Qâ?¢ Plus with new electronic features, increased capacity and other enhancements - providing even greater flexibility and usability.
Used Color Scrollers
Find used color scrollers in well maintained condition from such popular brands as Altman, Strong, Lycian, Strand and James Thomas Engineering. All products come with warranties and are tested before shipping to you. Solaris sells and buys secondhand and used color scrollers for film, TV, auditoriums, concerts and theaters. If you do not find what you are looking for give us a call and we will quickly find it for you.