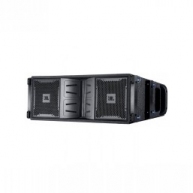 The VT4886 Subcompact Passive Three-Way Line Array Element is designed to deliver highquality reinforcement of music and speech in a wide variety of applications including concert Audio and corporate A/V presentations of all types for both portable users and fixed Venue installations.

The VT4886 is a very compact, lightweight enclosure housing two 6.5" low Frequency transducers, four 2.5" Midrange components and two 1" high Frequency Compression drivers. Advanced component design and density provide an extremely high power-toweight ratio with more SPL output than other systems in its class.

A proprietary waveguide seamlessly integrates MF and HF section output in a nextgeneration implementation of JBL's patented R.B.I. (Radiation Boundary Integrator) technology, providing precise wavefront control and optimum inter-enclosure coupling. JBL Thermomaster technology improves heat transfer while reducing mid section power Compression. LF transducers feature patented Differential Drive technology and are matched to a low-Frequency Diffraction absorber with a tuned resonant-chamber that reduces cavity Resonance and cabinet edge Diffraction effects. A highly refined passive network minimizes insertion loss while ensuring precise Impedance matching between LF, MF and HF sections.

Application flexibility was a key design criterion. Possible uses include: suspended or ground-stacked (standalone or with the companion VT4883 subcompact Subwoofer) for FOH, offstage fill, Stereo in-fill, center cluster or Delay cluster use; suspended with VT4883 enclosures and additional groundstacked VERTEC subwoofers for 4-way FOH use; underbalcony (1-4 enclosures); distributed front fill (1-2 enclosures); modular, constant curvature horizontal Line Array; downfill use with mid- or full-sized VERTEC models; pole mounting (tripod-mounted or with optional extension rod for the VT4883). For optimum performance, DSP presets have been specifically engineered for the abovementioned configurations.
JBL
James Bullough Lansing was born James Martini, 14 January 1902, in Macoupin County, Millwood Township, Illinois. His parents were Henry Martini, born in St. Louis, Missouri, and Grace Erbs Martini, born in Central City, Illinois. The elder Martini was a coal mining engineer, and his work required that the family moved about quite a bit during Lansing's early years. Lansing was the ninth of fourteen children, one of whom died in infancy. For a short time, Lansing lived with the Bullough family in Litchfield, Illinois. He later took their name when he changed his from Martini to Lansing. Not much is known about Lansing's early days, and we are indebted to Bill Martin, one of three surviving brothers, for providing most of the information presented here. Lansing graduated the eighth grade at the Lawrence School in Springfield, Illinois. He also attended the Springfield, Illinois, High School. Later, he took courses in a small business college in Springfield. As a young lad he was very interested in all things electrical and mechanical. At about the age of 10, he built a Leyden Jar which he used to play pranks on his playmates. He also constructed crystal sets, and at one time, probably about the age of 12 or so, built a small radio transmitter from scratch. The signals from this set were apparently strong enough to reach the Great Lakes Naval Station in Illinois; naval personnel determined the source of these signals and later supervised the timely dismantling of the young Lansing's radio transmitter. For a while Lansing worked as an automotive mechanic, specializing in fine engine repair work. He attended an automotive school for mechanics in Detroit through the courtesy of the dealer he worked for in Springfield. Lansing's mother died 1 November 1924 at the age of 56, and at that time Lansing left home. As best we can determine, he went directly to Salt Lake City. Mrs. Lansing, the former Glenna Peterson of Salt Lake City, tells of meeting Lansing in 1925 in that city. At the time he was working for a radio station as an engineer. In addition, he worked for the Baldwin loudspeaker company in Salt Lake City for a time. He also met his future business partner, Ken Decker, in Salt Lake City.
Used Line Array Subs
Find used line array subwoofers and line array subs from such popular brands as Meyer Sound, d&b audiotechnik, L-Acoustics and Nexo. All used line array speakers are warrantied and in most cases inspected by factory certified technicians. Solaris sells and buys secondhand and used line arraysubs for large concerts, tours, stadiums and auditoriums. Call us if you don't find it and we will find it for you.
VT4886-DF89 - B-Stock VT4886-DF89 in excellent condition with 2 Years Factory Warranty
VT4886-DF88-B - B-Stock VT4886 with 2 Years Factory Warranty in excellent condition