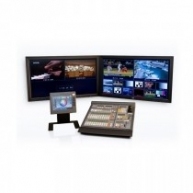 Barco's FSN series is a high-resolution 3G enabled switcher that combines advanced multi-format production and presentation switching in one highly integrated unit. The FSN integrates input conversion, multi-viewing, digital video effects and output conversion into a single 6 RU chassis.

Full integration

By seamlessly integrating multiple video and computer graphics formats on a common platform, the FSN series provides a streamlined package that's modular, easy to operate, and easy on your budget. The FSN allows control of two full mixer-effect (M/E) busses from its control panel as well as the program mixer. Additional auxiliary output cards can be installed for up to 16 AUX outputs, 8 additional mixers, or multi-format outputs and blending.

Available models

The FSN-1400 ships with the System and Mixer/Effects cards pre-installed in the chassis. Additional cards are added to the FSN-1400 to meet the specific application requirements. In addition to the user defined custom configurations, the FSN-1400 is available from the factory in five pre-configurable models:

FSN3G-1004: FSN-1400 with 5xUIC, MVR, 2xUOC
FSN3G-1802: FSN-1400 with 1xNIC, 5xUIC, 2xDVE, MVR, 1xUOC, 1xNAC
FSN3G-1804: FSN-1400 with 1xNIC, 5xUIC, 2xDVE, MVR, 2xUOC
FSN3G-2002: FSN-1400 with 1x NIC, 6x UIC, 2x DVE, MVR, 1x UOC, 1x NAC
FSN3G-2004: FSN-1400 with 1x NIC, 6x UIC, 2x DVE, MVR, 2x UOC
Additional custom configurations are available from the factory (BTO) upon customer request.

In addition to the FSN-150 Controller, the FSN-1400 can be controlled from the FSN-GC, a graphical interface program that can run from a Windows or Mac PC. The FSN-GC can run standalone or in parallel with the FSN-150 providing backup capability to the system.

Barco
Barco, a global technology company, designs and develops visualization solutions for a variety of selected professional markets: medical imaging, media & entertainment, infrastructure & utilities, traffic & transportation, defense & security, education & training and corporate AV. In these markets Barco offers user-friendly imaging products that optimize productivity and business efficiency. Its innovative hard- and software solutions integrate all aspects of the imaging chain, from image acquisition and processing to image display and management. Barco has its own facilities for Sales & Marketing, Customer Support, R&D and Manufacturing in Europe, America and Asia-Pacific. The company (NYSE, Euronext Brussels: BAR) is active in more than 90 countries and employs 3,500 staff worldwide. In 2008 Barco posted sales of 742 million euro.
Used Video Projector Accessories
Find used video projector components and accessories from such popular brands as Barco, Christie Digital, Eiki and Epson. All used video projectors are warrantied and in most cases inspected by factory certified technicians. Solaris sells and buys secondhand and used video projector components and accessories for houses of worship, concerts, auditoriums and corporate events. If you do not find what you are looking for give us a call and we will quickly find it for you.