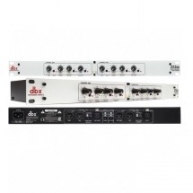 More sound to your amps and speakers
The secret to making speakers sound great lies with the crossover you use. With the dbx 223XS Crossover you'll get great performance, ultra low-noise, rugged reliability and four decades of dbx knowledge and expertise in building the world's finest processors. The 223XS uses precision filters to separate the audio signal and direct the correct frequencies to your loudspeaker drivers. By directing only the specific frequency bands to each speaker driver the 223XS leaves your amplifiers free to use their full power on the usable signal eliminating distortion and giving your PA system a cleaner and better sound.

The dbx 223XS is a dual channel crossover with all the features you would expect from a professional product. It features Linkwitz-Riley 24dB per octave filters, independent output gain controls for level matching, output phase inversion, 40 Hz low cut filter, and optional mono summing of the low frequency (Subwoofer) output. Everything in the design exudes great precision from the solid "click" controls to the high quality XLR inputs and outputs.

Features
XLR balanced ins and outs
Mode switch for stereo 2-way or mono 3-way operation
Low frequency summed (Subwoofer) output
x10 range switch on both channels
40Hz high pass (low cut) filter both channels
Phase reverse switch on all outputs
Individual level controls on all outputs
24dB per octave Linkwitz-Riley filters (the professional standard)
Stereo/Mono status LEDs indicate the selected mode
dbx 2 year parts and labor as standard
CSA NRTL/C approved
CE compliant
dbx Professional
dbx Professional dbx Professional Products began in the studio environment developing noise reduction and dynamics products, and it is still in our blood. Since those beginnings we have continued to strive after audio perfection. The 160SL, 786, and Quantum II are some of the results of this pursuit. From the DriveRack series and the IEM In-Ear-Monitor Processor to our host of classic dbx analog Compressors and EQs and top-of-line Blue Series products, dbx no-compromise products are on the rosters of national touring acts night after night. From restaurants and shopping malls to nightclubs and theaters, professionals rely on dbx Professional Products to deliver unparalleled performance. Our DriveRack and ZonePRO products are designed for these applications; built to satisfy the most demanding environments.
Used Converters and Sync
Converters and sync is often referred to as an analog to digital converter (ADC) and converts unremitting quality sound to a discrete digital device. They also have the ability to make a quantitative measurement. The opposite operation of converters and sync is done by the digital to analog converter (DAC). Usually, converters and sync will alter the voltage level of the input analog to a safe amount. However, this is not always the case, as some rotary encoders are also viewed as converters and sync. Depending on the ADC used it will supply a different coding schematic digital output. The most common digital output will be 2'??s complement, which is a numeral that is comparative to the input, however other numbers are also possible. This is due to the resolution of the converters and sync. A converters resolution depicts the number of possible values it can yield depending on the analog values that it comes across. The resolution is typically not shown in binary numbers; instead it is shown in bits. If it isn'??t expressed at bits then it will often be depicted as volts. The majority of converters and sync are linear. This means that the number of outcomes for the input value is directly correlated to the output value. An ADC speed varies by type and the device will have to sacrifice precision for speed. ADC'??s are available at very fast speeds but be careful not to get one to fast as the quality won'??t be great.