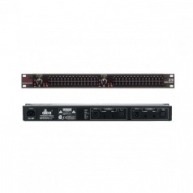 The dbx 2-Series Graphic Equalizers have been designed to meet the needs of the most demanding sound reinforcement environments, while offering the simplicity of straight forward controls. The 215 not only provides standard features like dual channels, 15 2/3 octave bands, ISO frequency meters, +/- 12dB input gain range, and switchable 50Hz/12dB octave low-cut filters, but also includes other thoughtful features. These features include: 20 mm faders; selectable +/-6dB or +/-12dB boost/cut range for precise gain adjustments; XLR, and 1/4" TRS connectors for installation ease; balanced inputs and outputs for quiet operation; and chassis/signal ground lift capabilities for quick hum isolation. The visionary design of the dbx 2-Series has been pursued to make your job easier.

The 2-Series represents a major step forward in the performance of entry-level graphic Equalizers. From its amazing 10Hz to 50kHz frequency response, to its 108dB dynamic range, internal toroidal transformer, the 2-Series offers out of this world specifications wit a own to earth price point. Sure to find a home in the studio, on tour and with installed sound venues, the 2-Series is destined to take its rightful place in tHe lineage of great dbx signal processors that are the professional's choice in signal processing. With such affordable quality, there's no longer any excuse for compromising your sound.
dbx Professional
dbx Professional dbx Professional Products began in the studio environment developing noise reduction and dynamics products, and it is still in our blood. Since those beginnings we have continued to strive after audio perfection. The 160SL, 786, and Quantum II are some of the results of this pursuit. From the DriveRack series and the IEM In-Ear-Monitor Processor to our host of classic dbx analog Compressors and EQs and top-of-line Blue Series products, dbx no-compromise products are on the rosters of national touring acts night after night. From restaurants and shopping malls to nightclubs and theaters, professionals rely on dbx Professional Products to deliver unparalleled performance. Our DriveRack and ZonePRO products are designed for these applications; built to satisfy the most demanding environments.
Used Equalizers
Equalizers are used in sound recording to equalize the balance between an electronic signalâ??s frequency components, by boosting or cutting the energy of specified frequency bands. Audio equalization is most widely used in sound recording, although it has many other applications beside that of the recording studio. There are a number of different types of Equalizers used in music recording. For example, a simple bass control (or low shelf), is able to adjust the gain of low frequency audio signals, without impacting on other frequencies. High self Equalizers (like a treble) on the other hand, are used to adjust high frequency audio signals only. Parametric Equalizers offers a far greater range of audio equalization functions however. These types of Equalizers are able to make three specific adjustments, something that makes them incredibly versatile. They can be used first of all to adjust the center frequency, and then they can be used to adjust the Q Factor in order to determine how sharp the bandwidth is. Finally, they can also be used to adjust the gain control in order to determine how much a frequency is boosted or cut in relation to frequencies above or below the selected center frequency range. A Graphic Dynamic Equalizer is similar to a Parametric Equalizer, except that these Equalizers are designed to be much more user-friendly. However, they are also less flexible than Parametric Equalizers. Graphic Equalizers employ a bank of filters to cover as many as 30 different frequency bands in the audio spectrum, depending on the model. The center frequency and Q Factor on Graphic Equalizers is fixed, but the level of these can be adjusted.