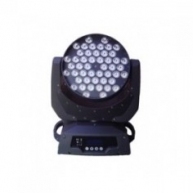 Voltage: 100-240 VAC, 50/60Hz
Fuse: 3.15A/250V
Power Consumption: 550W/220V
Light Source: 36x10W tri-color LEDS

 Average service life: 50,000 hours
Colors: RGB Color mixing system LED rainbow effect
Color Temperature: 0-100% linearly adjustable from 7200K- 20000K

 Dimmer: 0-100% linearly adjustable (16-bit)
General dimming and blackout for all four colors


Strobe: 1-20 F.P.S.
Beam angle: Standard: 13 Optional: 23

 Movement: Pan: 540 Degrees Tilt: 280 8 bit smooth, auto
reposition after unexpected movement, macros effect

 Controls: DMX512, master-slave, sound activated and auto mode.
Aeson Technology
Aeson Event Technologies was founded in 2011 as a result of a need we perceived to exist in the lighting and LED video display markets.The lighting market was dominated by a handful of companies and we felt there was an opening for a company that was much more responsive to customer needs.The domestic LED video market was also dominated by a small number of companies whose high price points gave us an opportunity to offer extremely well made product at much more reasonable prices.Aerial Rigging, the parent company of Aeson Event Technologies was founded in 1987. Aerial Rigging is one of the leading providers of rigging services in the United States, catering primarily to the entertainment and hospitality industries. Aerial Rigging is a member of PLASA and a recognized ETCP employer.Aeson Event Technologies is based in Lakeland, Florida, just west of Orlando and we have a distribution center in Las Vegas, Nevada.Aeson Event Technologies is dedicated to providing our customers with exceptionally responsive service. We are committed to offering the market, quality products, at reasonable prices. We fully understand that a sense of urgency must drive our customer service. When necessary we will overnight you replacement parts and then determine how the issue impacts the warranty.
Used Moving Lights
Moving lights, or intelligent lighting as they are sometimes called, are basically a type of stage lighting that is able to move due to its integrated mechanical elements, which go beyond the moving parts that are found in more traditional, non-moving lighting. Automated lighting such as moving lights is highly valued by stage lighting technicians as through them, it is possible to create highly complex special effects that simply cannot be made using standard, non-moveable lights. It should be noted however, that when it comes to intelligent lighting, the real intelligence lies with the programmer of the show, rather than the lighting equipment or any operator. Moving head lights, also called moving head luminaires, are highly versatile lighting instruments capable of performing multiple lighting functions at once. They have largely superseded the use of multiple non-moving lights to create special effects, which required many lights and a large amount of skill on behalf of the operators. Moving lights are hooked up to a lighting control console and send data to it in one of three ways â?? through an Ethernet control (a relatively new technology), analogue control (now almost obsolete), or DMX, (which is now the industry standard). So long as they have been properly programmed, the optics of wiggly lights can be altered in many ways, allowing for the â??personalityâ? of the lights to be adapted almost instantaneously, depending on the requirements of the operator. Typically, moving lights will be pre-programmed before a production and controlled using simple commands, although some more experience operators may prefer to control them â??liveâ?, if they have the experience to do so.