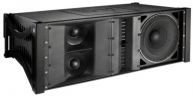 The XLC family is designed to provide the highest quality performance for a variety of applications. It is comprised of two full range systems; XLC127DVX (120 degree line-array element), XLC907DVX (90 degree line-array element), and two subwoofers; Xlc118, XLC215. The XLC127DVX uses a DVX3121, two DVN2065 neodymium midrange
transducers, and two ND6 high frequency transducers.

Electro-Voice
Electro-Voice Prominent maker of microphones; also loudspeaker systems, amplifiers.
Used Line Array Speakers
Find used line array speakers and line array elements from such popular brands as L-Acoustics, d&b audiotechnik, Meyer Sound and Nexo. All used line array speakers are warrantied and in most cases inspected by factory certified technicians. Solaris sells and buys secondhand and used line arrays for large concerts, tours, stadiums and auditoriums. Call us if you don't find it and we will find it for you.
XLC127DVX Package - Package of (12) XLC127 DVX, (4) XLC118, grid,
XLC127DVX - Corporate used package of (18) XLC127DVX , (12) XSubs, (4) XLC 215 wth rigging and dollies in great ...
XLC127DVX - XLC DVX - XSUB package. 15 day warranty.
XLC127DVX Package - Complete XLC127 package. Used on a few rentals.
XLC127DVX - Turn key System of (12) XLC 127 DVX in great condition.
XLC127DVX - XLC127 package. From installation. Normal wear and tear.
XLC127DVX Package - Package of (32) XLC 127DVX, (24) X-subs with dollies, bumpers, and amps.