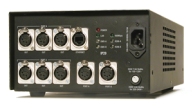 Wybron's 150-, 300- and 600-watt PS Power Supplies attach easily to a Truss or can be mounted into a 19-inch rack. Each provides power and control signal for Wybron's lighting products, which send feedback to their operators with Remote Device Management.

Both the signal and the power travel along a single 4 pin Cable, eliminating the need for a separate power Cable for each device. All the devices can be daisy chained for easy wiring and setup.
Wybron
Nestled at the foot of Pikes Peak in Colorado, USA, Wybron invents, manufactures, and markets cutting-edge lighting products that have transformed the entertainment, church, and architectural industries. In its state-of-the-art, 50,000-square-foot manufacturing facility, Wybron puts innovation, quality and world-class service to work every day. Wybron: Center Stage in Entertainment Lighting Wybron invented the scrolling color changer in 1980, forever changing the way lighting designers execute their visions. But that was just the beginning. Wybron's burst of innovative energy kept going, resulting in a continuous stream of industry-standard products and accessories. Wybron's Coloram color changer continues to dominate stages worldwide as designers demand it for its unmatched range of features, easy utility, and dependable Wybron performance. The CXI offers a nearly infinite color palette and real-time color adjustment, all from the comfort of your console. Autopilot II, the industry's only 3-D follow spot tracking system, gives performers new freedom to move, matching light movement to performer movement in real time. And Eclipse and Eclipse II, our popular DMX-controlled dowsers, do mechanically what can't be done electronically: They give designers real control over their HMI and other non-dimmable lights. Tying all our equipment and other RDM-capable gear together is the Infotrace Control and Management System. Never before have fixture options and operating information been so readily available from the desk via standard wiring and equipment. With Wybron's commitment to innovation and the industries we serve, there's no telling what we'll come up with next. One thing's for certain: It will meet Wybron's high standards for innovation, quality, and dependability. Behind the Scenes: Precision Manufacturing Innovation in manufacturing has made the Wybron name synonymous with reliability. Skilled personnel at all levels make it happen, and a purposely vertical orientation makes everyone accountable, assuring quality fabrication from start to finish. Investment in manufacturing makes our products better and our jobs easier. Our line features the most advanced equipment available: the Amada Vipros 358-58 station CNC turret punch press, the Amada CNC brake, the Haeger 816 hardware insertion hydraulic press, the Trans Tech Combo 130 pad printer, the Nordson Horizon 400 fully automatic eight-gun powder paint system, and now the Daewoo CNC turning center. This CNC equipment is investment spending at its best: It integrates computer-aided engineering with the fabrication process, making final fit and finish as close to perfect as possible. At Wybron, because our name is on the line, nothing less will do. Engineering: Step-Ahead Thinking Makes the Difference With innovation as a bedrock value, it's no surprise that Wybron's electrical, mechanical and software engineers are truly best in class, using the most leading-edge tools available. For example, mechanical designs are developed using Solid Works, a powerful parametric CAD system for solid modeling. It speeds development time, reduces error, and sets the stage for computer-driven manufacturing with miniscule tolerances. The embedded software that drives our products is written in C, then debugged using an in-circuit emulator. Product electronics are designed with state-of-the-art RISC and DSP microprocessor technology and manufactured with industry-leading robotic surface mount assembly equipment. These engineering disciplines ensure efficient design, precision manufacturing, and the "never fail" reliability so integral to the Wybron name.
Used Conventional Lighting Accessories
Conventional lighting accessories are characteristic of modern stage lighting. Modern stage lighting has quite a number of purposes onstage namely: to compose or literally paint a scene which would show the audience what the lighting designer intends for them to see; to direct audience attention to a specific area or to divert attention from another; to illuminate what unfolds; to reveal form, such as three-dimensional elements; to set the mood or tone of scenes; to project scenery; to set or change time and space positions, i.e., red for either sunset or sunrise and blue for night, with sky scene projections like heavenly bodies achieved by employing mechanical filters called gobos; and to plot the action, with the lighting event used to either advance or trigger the action. Conventional lighting accessories are composed of a color frame or gel frame structured from either cardboard or metal and intended to encapsulate color media or gel. It is placed right outside the lighting fixture directly in front of the lens assembly. Generally, such fixtures are also integrated with a gel frame holder that keeps the gel frame in place. Conventional lighting accessories can occasionally come with single or a set of barn doors. So called because of how they look like, they are actually composed of two larger outwardly-widening leaves and two smaller outwardly-narrowing ones. The leaves function to contour the light beamâ??s shape and block any light scattering by the lenses to prevent unnecessary light spills onto spaces where light is not required, such as the viewersâ?? eyes. A device called a top hat is designed to protect the viewersâ?? eyes from the direct light source. It is also a component of conventional lighting accessories.