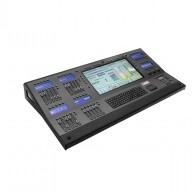 The new Vista L5 is the latest addition to the revolutionary Jands Vista range of consoles and control surfaces.

While keeping all the superb features of the original, the L5′s powerful new Version 2 software combines with a massive screen, backlit keyboard, Linux operating system and abundant processing power to create a whole new Vista experience.

If youve never tried a Vista, or youre looking to upgrade or expand, the L5 is the ideal choice.
Jands
Jands have been designing, building and operating lighting equipment since we made our first dimmer in 1970. Since then, our products have become a standard feature of lighting rigs the world over. Whatever country you'??re in, ask an industry professional about Jands products and you'??ll get the same response: '??reliable, good value, solid and dependable, go-anywhere do-anything, noise-free, just better.'?? But we don'??t just offer our own lighting equipment, we'??ve also identified the best products available from other manufacturers. This is why we can give you the best possible lighting solution, including ETC and Varilite products.
Used Lighting Consoles
Find used lighting consoles and lighting desks in well maintained condition from such popular brands as MA Lighting, High End Systems, Avolites, Jands and Martin Professional. All used lighting consoles come with warranty and many have been certified by factory technicians. Solaris sells and buys secondhand and used lighting consoles desks for touring production, churches, theaters, film, television and more. If you do not find what you are looking for give us a call.