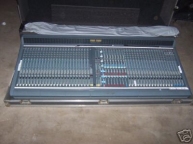 The Vienna range of consoles continues the Soundcraft tradition in sound
reinforcement, offering superb performance, ruggedness, versatility and value for
money - equally at home in the theatre, on tour, in a conference hall, auditorium
or place of worship.
Vienna has been designed to provide oustanding sound quality and facilities, a clear
and practical control surface and the sturdy frame with built-in handles offers the
strength to survive many years, either as part of a fixed installation or `on the road'.
The console is available in 16, 24, 32 or 40 channel frame sizes, all with eight groups
and eight stereo effects returns as standard. The consolemay be specified with eight
VCA groups in addition to the audio groups, and may be fitted with optional dual
Matrix Output modules in blocks of four where space is available.
The Input module is available in VCA or standard versions, with a patented padless
microphone amp, hi-pass filter and a four band equaliser specifically designed for
live sound applications. The channel signalmay be fed to eight auxilliary sends and
routed to eight audio groups and left, right and mono mix outputs. Comprehensive
muting and solo facilities are included and the signal is monitored by individual
LED bargraph meters.
The Group module comprises an audio subgroup with low-noise summing
amplifier, PFL monitoring and routing to the main mix outputs, plus a full-featured
stereo line input for use as an additional input or as an effects return. This stereo
input has full muting and routing facilities, stereo image control and access to four
of the auxiliary sends. OnVCA consoles a similarmodule also houses aVCAgroup
master fader.
Comprehensive master and monitor functions are provided on the central Master
module, including versatile talkback facilities either from the local engineer to desk
outputs or as two way communication with a separate monitor console.
The optional Dual Matrix output module allows additional submixes to be created
from the group outputs, main mix outputs and a separate external input. These
modules may be fitted in blocks of four where space is available.
Vienna is designed to allow two consoles to be linked in a master/slave
configuration, with opto-isolated control signals and balanced, buffered audio
connections for maximum noise immunity. The interface allows two Vienna
consoles, or one Vienna and one Europa console to be linked.
Simplicity and clarity of operation is ensured by careful layout of controls, internally
illuminated buttons and provision for three Littlelites on the top surface of the
console, with an inbuilt dimmer.
Soundcraft
Founded in 1973, Soundcraft first made its mark with the launch of the Series 1, the first mixing console in a flightcase. Back in the early 70's, the music touring business was just beginning - and the transportable mixing desk quickly became popular among the bands and the new PA companies that were springing up to rent out sound equipment. From what was then a small company in central London, Soundcraft expanded and started to diversify. The company designed a mixer for recording - the Series 2 - and began to build a reputation for great-sounding desks, which is often referred to as the favoured 'British Sound'. Design and innovation has always been one of Soundcraft's major strengths. Over the years it has introduced a number of industry-favoured consoles such as the Series 4, 2400, TS24, 8000, 200B, 6000, Delta, SAC200 and the Spirit Folio range, and more recently the Series FIVE, FIVE Monitor and Broadway. Today Soundcraft has a network of 88 distributors selling and supporting its products world-wide. Part of the Harman Pro Group, Soundcraft is still very much the dedicated professional mixing console designer and manufacturer it was back in 1973. It now boasts a range of mixers which are designed for use in live sound, recording, post-production, TV and radio production and disco applications. Harman is an international company which comprises a group of dedicated manufacturers of audio equipment spanning professional audio, in-car systems, multimedia and hi-fi consumer products.
Used Analog Mixing Consoles
Vienna - Monitor Console, 40x16 + L/R