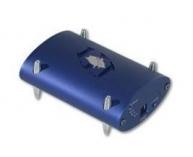 The Wholehog III USB Widget is a powered four way USB hub packaged in a sleek blue anodized oval case. The USB Widget was created to provide USB distribution and power for use with multiple Wholehog III DMX Widgets, Programmer Wings and Playback Wings. The hub can be used in a stackable stand alone configuration, or can be rackmounted via the Widget Rack along with other Wholehog III Widgets for a reliable, integrated package - all with the distinctive WHIII styling.
High End Systems
From Ani di Franco to ZZ Top concerts. From Super Bowl half time to popular music award shows. From trade shows and talk shows to Olympic ceremonies or church sanctuaries. At High End Systems Inc., we innovate and create the lighting products and control systems that illuminate some of the world's biggest artists on the largest stages, as well as film and television sets, cruise ships, theme parks, restaurants and retail spaces. Now entering our fourth decade, we're one of the world's largest entertainment lighting manufacturers, a pioneer in new digital lighting technology and producer of the industry-preferred lighting controller technology. We attribute our success to staying in touch with the needs of the entertainment lighting community. Product research and development at our Austin, TX headquarters is an ongoing collaboration between in-house engineers and lighting designers in the field. This collaboration is largely to thank for our status as a major industry innovator and intellectual property holder. We're not only keeping pace with industry developments - we're guiding them. We're constantly pushing the creative and technological envelope to meet customer needs and stay ahead of the curve. As members of the entertainment community, we know reliability is paramount. We maintain rigorous manufacturing standards, while providing industry-leading customer support services.
Used Lighting PC Interfaces
Find used lighting console PC software and USB interfaces in well maintained condition from such popular brands as MA Lighting, High End Systems, Avolites, Jands and Martin Professional. All used lighting consoles come with warranty and many have been certified by factory technicians. Solaris sells and buys secondhand and used lighting console PC and USB interfaces for touring production, churches, theaters, film, television and more. Call us if you don't find it and we will find it for you.