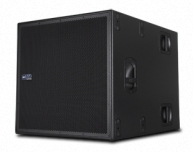 The TTS28-A is a reference, high output, 2 x 18bass reflex Subwoofer module ideal for touring applications.

With the digital switching amplifiers, neodymium woofers and well designed structure, it is one of the smallest and lightest double 18 systems available.
A unique feature is the semi charged horn design which at low frequencies around 40 Hz operates as a conventional bass reflex cabinet. However at slightly higher frequencies in the 80 to 100 Hz area, the system operates as a semi charged horn loaded design which provides around 3 to 4 dB more efficiency.
RCF
RCF was founded in 1949 in Reggio Emilia, an Italian city with excellent mechanical and electronic industries. Over the years the company has established itself as a world leader in design, production and marketing of high technology Professional and Commercial Audio products. Throughout its history the company has continued to expand and diversify to satisfy every audio and musical amplification need: from single systems to big, complex projects. For sixty years the main administrative and production facility has been in Reggio Emilia where the company has a highly professional and specialized personnel. RCF markets its products through sales offices in the United Kingdom, Germany, France, Spain and United States. In the rest of the world the Company operates through a consolidated, capillary network of distributors. Today RCF employs more than 250 people and sells its products in more than 100 countries worldwide. Since 1995 the company has been ISO 9001 certified.
Used Subwoofer
Find used speaker subs and subwoofers from popular brands as JBL, Turbosound, EAW and more. All used speakers we carry are warrantied and in most cases inspected by factory certified technicians. Solaris sells and buys secondhand and used speaker subs for use in churches, clubs, theaters and other large events and shows. Call us if you don't find it and we will find it for you.
TTS28-A - Sold only in Pairs. Unit price is for the cost of one speaker.