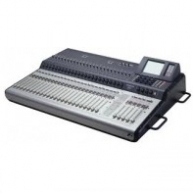 The idea behind Mackie's new TT24? Digital Live Console was simple. We wanted to give engineers all the benefits of live digital mixing like instant recall, built-in dynamics, and software control within reach of two hands and a modest budget. After spending considerable R&D time and big bucks designing and refining this concept console, we proudly introduce the real-world-ready TT24, the first digital live console designed by analog mixer fanatics.

The TT24 is a fully digital 24-bit/96kHz mid-sized console which gives engineers full automation and recall of levels, EQ, effects, routing and more. And unlike other affordable digital consoles, designed primarily as Recording desks, the TT24 puts gobs of standard analog and digital I/O right on the rear panel. Not to mention being far easier to learn and use by the average live sound engineer.
Mackie
LOUD Technologies Inc. LOUD Technologies Inc. is one of the worldâ??s largest dedicated pro audio and music products companies. As the corporate parent for world-recognized brands including Alvarez, Ampeg, Crate, EAW, Knilling, Mackie, SIA and TAPCO, LOUD Technologies Inc. produces a wide range of digital recording products, loudspeakers, commercial audio systems, audio and music software, guitars, guitar and bass amplifiers, and orchestral string instruments. Additionally, LOUD Technologies is one of the largest distributors of branded pro audio and music accessories. Wherever there is music making, live performance, audio recording or playback, LOUD Technologies is there.
Used Digital Mixing Consoles
Audio mixers, or sound consoles, are electronic sound mixing boards used to combine two or more audio signals, before directing them to the output channels connected to the device. Sound consoles do a great deal more than just combining different audio signals they allow users to optimize the sound output in a number of ways adjusting various sound levels, enhancing sound with special effects and equalization etc, allowing for unmatched control over the end product.