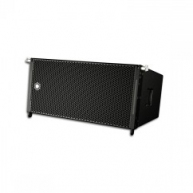 The Touringline is a powerful 2-way line source loudspeaker containing an internal passive crossover for economic semi-active operation. It incorporates a direct radiating 12 neodymium low-mid woofer and a neodymium high frequency driver / waveformer combination. The line array waveformer has a nominal coverage pattern of 90 x 10. The unique 12 low-mid woofer provides that, what is often missing in so called Compact-Arrays: Acoustic bottom. The Touringline has got thick and warm low-mids and makes very low crossover frequencies possible. For many applications it is possible to use the Touringline without additional subwoofers.

With the proprietary Quick-Rig system putting the array into service is easy and efficient: A 12-element array flies within fifteen minutes - including chain hoist, bumper and splay angle setup! By using T6 aluminium in combination with high load steel it was possible to minimize the weight to 29 kg per element. A 6-element array including rigging frame weights less than 200 kilogrammes.

The available accessories perfectly round down the Touringline system: The Touringline dolly takes up to 12 Elements including rigging frame and small parts. Its dimensions fit into the footprint of the Euro-Pallet trucking grid. The rigging frame is made of high load steel and has got detailed labelling for easy usage. The complete rigging system of the Touringline is certified for safe rigging of up to 24 modules on one frame according to the strict BGV C1 requirements.

For best possible operation the use of AD-Systems Impuls system amplifiers is recommended. All nescessary setups are on board, all relevant and appropriate parameters are set within seconds.
AD Systems
Audio products must work properly day after day, year after year, and they are required to do their work reliably. Whether in the touring or rental business: sound and function, design and economical aspects absolutely must fit. Is that asking too much? No, definitely not. Is it exhausting, timeconsuming or work- intensive? Definitely yes, but that's our job. And we love it! Complex developments, constant quality control and improvement, cooperation with selected suppliers as well as customer care and support – we do it all: "made in Germany". Our goal: perfectly tuned and smoothly working technique. Sounds boring? No, because we focus on what really is important: your show. Think less – feel more! AD-Systems – we amplify emotions. Headquarters AD-SYSTEMS GmbH & Co. KG Am Schornacker 11c D-46485 Wesel Phone: +49 281 4609070 Fax: +49 281 46090722 E-Mail: info@ad-systems.com CEO: Sven Haferkamp, Oliver Pattay Sales BeNeLux, Logistics: AD-SYSTEMS B.V. Junostraat 2 NL-6468 EW Kerkrade Phone: +31 45 546 85 00 Fax: +31 45 546 85 99 E-Mail: info@ad-systems.com Sales Director BeNeLux: Bert Schmeits
Used Line Array Speakers
Find used line array speakers and line array elements from such popular brands as L-Acoustics, d&b audiotechnik, Meyer Sound and Nexo. All used line array speakers are warrantied and in most cases inspected by factory certified technicians. Solaris sells and buys secondhand and used line arrays for large concerts, tours, stadiums and auditoriums. Call us if you don't find it and we will find it for you.