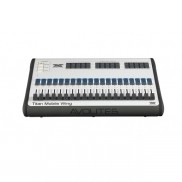 Titan Mobile Wing

Titan Mobile Wing gives direct access to items that are always needed, such as Shape Overlay Cues, Blinders, House Lights, Smoke Machines or Performer Key Lights for TV productions. The generous, 30 User Programme Executors offer control or selection of Cues, Lists, Palettes, Groups or user programmable Macros.

As our industry greens up and wises up, many shows have become festival tours where theonly things to be freighted around are the band, designers and flexible control systems.

The control surface of TITAN Mobile coupled with Avolites touring experience enablesdesigners to keep it live while preserving their shows visual integrity.

Live Playbacks, Solo and Flash buttons, user programmable buttons and Attribute controllersenable fast and accurate show programming in a flight friendly package. Avolites TITANMobile catering to the needs of our ever changing industry.

Direct output of 4 fully isolated DMX universes, to help protect your Titan Mobile and Laptop against power surges on a DMX LINE, and up to 16 DMX universes output via ARTnet.

Titan power

Titan software is a superbly flexible console operating system with the ability to get a showon with the minimum of pre programming. Once fixtures are patched you can start runningor programming a show knowing that at your fingertips are: powerful Cue List facilitieswith the widest number of options for move in the dark to assist with programming; fullindividual fixture attribute timing; Pixel Mapping; Shape generation; powerful grouping andsub grouping; a uniquely powerful Fixture Exchange with the addition if needed of a CombinedShow Import; and hundreds of other useful and effective tools to facilitate fast and reliableprogramming with instant Hands On operation. And like all Avolites consoles a comprehensivefixture library fully supported and updated by and at Avolites with support you can rely on.And obviously any Titan show can load into any Titan console, so if you have a mix of Titanconsole they are all compatible.
Avolites
olites are dedicated to producing the very best control solutions for all aspects of the professional lighting industry. The company has focused on, listened to and built upon end-user feedback which has allowed continual development and evolution of the product range. Avolites equipment utilises cutting-edge technology whilst retaining the accessible, intuitive, hands-on familiarity for which Avolites' products have become popular and renowned. Avolites also believe 'the people' part of the equation is vital in ensuring their position as market leader is maintained. The company comprises a creative, motivated, positive and lateral thinking team of individuals who will ensure a successful and progressive future for the company.
Used Lighting Consoles
Find used lighting consoles and lighting desks in well maintained condition from such popular brands as MA Lighting, High End Systems, Avolites, Jands and Martin Professional. All used lighting consoles come with warranty and many have been certified by factory technicians. Solaris sells and buys secondhand and used lighting consoles desks for touring production, churches, theaters, film, television and more. If you do not find what you are looking for give us a call.
Titan Mobile - Titan Mobile in good condition.
Titan - Avolites Titan mobile console in like new condition. Has never been used for a show.