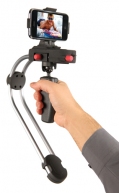 The Tiffen Company, award winning manufacturer of still image and video accessories, announced today at the International Consumer Electronics Show, the release of the Steadicam Smoothee, a new ??easy to use right out of the box image stabilizer for use with the Apple iPhone 3Gs.

The Smoothee, developed by Steadicam, the Leader in camera stabilization, now allows iPhone 3Gs owners to capture incredible video without the shakes normally associated with hand-held video shot on the go.

??We're extremely proud to be introducing this incredible new Steadicam at CES, that let's anyone take great videos with their iPhone 3Gs the very first time. Whether they're novices or aspiring videographers, the Steadicam Smoothee allows iPhone 3Gs owners have a richer experience and more fun with their iPhone, said Steve Tiffen, president and CEO of the company.

The lightweight, agile, and easy to use Steadicam Smoothee features an innovative, patented design built around a durable mono-frame metal structure that requires no complicated instruction to use. With its ??go anywhere compact dimensions, The Steadicam Smoothee is approximately 8W x 14.5 H x 2.5 D (20.3 x 36.8 x 6.4cm) in operating configuration. While designed for the Apple i-Phone 3Gs, the patented quick release removable i-Phone mount also serves as a tabletop stand or can be mounted to any tripod with a standard x20 camera mount and the comfortable ergonomic hand-grip folds up securely when not in use. Also included with the Steadicam Smoothee is a quick guide DVD on how to get the best possible shots, along with a carrying strap.
Tiffen
Tiffen has been a leading manufacturer and supplier of photographic filters and lens accessories for the consumer/professional imaging and the motion picture and broadcast television industries for over 70 years. The company has a rich history of innovative product design, superior optical consistency and unparalleled quality. Tiffen has been recognized for its product and engineering excellence earning two Technical Achievement Awards and a Scientific and Engineering Award from the Academy of Motion Picture Arts & Sciences, as well as an Emmy Award from the Academy of Television Arts and Sciences. Today, the company offers a wide range of products from its divisions, which include: Consumer, Motion Picture and Television, Digital, Tripods and Support Systems. The company's Special Effects filters, once an exclusive of the Motion Picture and Television industry are now available to still photographers and videographers through the Tiffen Hollywood F/X filter line. Tiffen continues to enhance its reputation as a leading accessory manufacturer through aggressive growth in the image making accessory industry. The Company has also expanded into a high-tech line of support products called Steadicam® Camera Stabilizing Systems. Tiffen, working together with Steadicam Inventor, Garrett Brown, has acquired the technology to manufacture and distribute Steadicam Camera Stabilizing Systems. Over the last three decades, Steadicam has been an invaluable dynamic production tool in the industry. Tiffen now offers a complete line of state-of-the-art Steadicam models to meet the needs of the film and video industry. By liberating the camera from its constraints, the Steadicam was able to move with the operator in a continuous motion, alleviating the need for tripods, cranes and dollies. This innovative technology was recognized with an Oscar, an Emmy, the Deluxe Outstanding Technical Achievement Award of the BANFF Television Festival, the Star 2005 TV Technology award, the 2006 Cherry Pickers Award, the 2006 CES Innovations Award and many more. Tiffen believes that it has established a high level of brand name recognition with its retailers and their customers. The Company either manufactures or has exclusive worldwide distribution rights to the following product lines: (i) Tiffen, its line of photographic, video and digital filters and lenses; (ii) Tiffen Dfx Digital Filter Suite, a filter software line (iii) Lowel-Light, a world leader in location lighting; (iv) Steadicam, a high-end camera stabilizing systems line; (v) Davis & Sanford and Vista, two lines of tripods; (vi) Domke, and Zing, two lines of camera bags; (vii) Stroboframe, a lighting, flash brackets and accessories line; (viii) Saunders Professional, a rotary trimmer line, (ix) Kodak Wratten filter products, (x) Listec Video, a line of professional teleprompters, and (xi) Wein Photo Products. TheTiffen factory and corporate offices are located in Hauppauge, Long Island, New York. The Steadicam factory and sales offices are located in Glendale, California. Additional offices are located in the UK and Australia.
Used Video Camera Accessories
Find used video camera components and accessories by top manufacturers such as Sony, JVC, Hitachi and Panasonic. All products come with warranties and are tested before shipping to you. Solaris sells and buys secondhand and used video camera components and accessories for film, television, concerts, churches, events and all types of entertainment and corporate production. If you do not find what you are looking for give us a call and we will quickly find it for you.