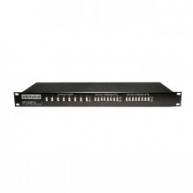 1-direct and 1-isolated output, phantom power is blocked from direct in to direct out.

Each unit provides 8 channels of mic level splitting circuitry in a single rack space unit. Depth is 7.5" including tie bar.

All connections are made via removable Phoenix style connectors - cable end connectors are included.

A set of dip switches is provided for each ISO output for lifting the ground connection between input and ISO output. (The SPC83P-S provides convenient front panel buttons for engaing phantom power and ground lifting each iso channel.)

Rear tie-bar is provided for attaching Cables securely to avoid accidental disconnects.

The SPC82 and SPC82P provide one direct and one transformer isolated output per channel, the SPC83 and SPC83P provide one direct and two isolated outputs per channel. Whirlwind transformers are used throughout. They are available with Jensen transformers, add "JT" to the model number. SPC83 and SPC83P are available with premium Lundahl transformers, add "LUNT" to the model number.

Units are also available in line level versions SPC82L and SPC83L.

The SPC82P and SPC83P feature rear terminal connections for injecting phantom power at the splitter with the optional Whirlwind DCSP1 (replaces PS48) external phantom Power Supply. Phantom power is blocked from the splitter's outputs, including the direct out.

Therefore, with the "P" versions, PHANTOM POWER WILL NOT PASS THROUGH THE SPLITTER FROM YOUR MIXING CONSOLE. Use the SPC82 or SPC83 model when you will be providing phantom power from the mixing console and NOT from an external Power Supply.
Whirlwind Music
Whirlwind Music, Inc. Switchcraft Products · CobraNet Products. ©1999-2009 Whirlwind Music Distributors, Inc. - All descriptions and specifications subject to change without notice.
Used Patch Bays
Patch bays are sometimes referred to as an audio patch panel. It is usually rack mounted around a 19-inch rack frame, which neatly holds the cables. Most patch bays are connected by short audio patch cable in the front and long permanent cable in the back. An audio patch panelâ??s hardware is organized in a manner so that circuits, typically of the same type appear with interconnecting circuits in an adaptable way. During radio, TV and recording sessions, patch bays are mainly utilized to help with audio patching and to help with the connection of other devices such as electronic instruments, microphones, amplifiers and recording devices. Patch bays make audio cable patching simpler so that users can attach various devices in different orders, depending on the project. All of these alterations can be completed at the patch bay. Itâ??s also easier to troubleshoot problems like ground loops and all of the jacks are located at one spot so you can easily find out which input jack is causing the problem. Any device such as keyboard instruments can be easily unplugged and plugged in without having to bend down with a flashlight and go through twenty different apparatus boards. Patch bays are easy to use and save users valuable time. Lastly the use of patch bays will also prolong the shelf life of input jacks and studio devices since all the connections will be made from the patch bay.