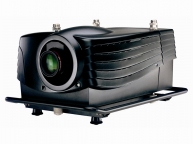 The Barco SLM G5 provides a compact, multi-purpose Solution for any event. Its sleek black chassis is equipped with a 3-chip Digital Light Processing? (DLP?) subsystem, which features XGA resolution Digital Micro Mirror Devices? and a state-of-the-art optical system. With its 5000 ANSI lumen light output, the G5 is ideally suited for mid-range applications and an excellent choice for the demanding environments of rental & staging events.
The Performer
Compact, powerful and able to fulfill a multitude of purposes, Barco's SLM Performer series is the ideal Solution for any midrange event.
The versatile SLM G5 has a rugged, sensible design and a light output of 5000 ANSI lumen, making it ideally suited to any application that requires a state-of-the-art projector.

Fast, Easy, Modular ...
With a modular structure which allows greater accesibility to serviceable parts, interlocking design for direct stacking and hanging and an integrated, no-fuss rigging system, the SLM Performer series offers you an efficient, reliable product on which you can depend - time and time again.
Barco
Barco, a global technology company, designs and develops visualization solutions for a variety of selected professional markets: medical imaging, media & entertainment, infrastructure & utilities, traffic & transportation, defense & security, education & training and corporate AV. In these markets Barco offers user-friendly imaging products that optimize productivity and business efficiency. Its innovative hard- and software solutions integrate all aspects of the imaging chain, from image acquisition and processing to image display and management. Barco has its own facilities for Sales & Marketing, Customer Support, R&D and Manufacturing in Europe, America and Asia-Pacific. The company (NYSE, Euronext Brussels: BAR) is active in more than 90 countries and employs 3,500 staff worldwide. In 2008 Barco posted sales of 742 million euro.
Used Video Projector Lenses